Even the most pristine lakes and streams can carry as much bacteria as the murkiest puddle. A water filter straw can remove all the disease-carrying microorganisms and other impurities.
Not all water filter straws are effective, however. Some require so much suction to get water through the filters that you could burst a blood vessel. Others do little to remove microorganisms, exposing the user to potential disease.
We've gone the extra mile to find the best water filter straws for survivalists. We've diligently watched hours of YouTube videos, scoured product reviews, and checked product descriptions for niggly details, like their U.S. EPA and NSF P231 compliance.
It is, therefore, with confidence that we announce our winner: the Sawyer Mini Water Filter.
Our Top Pick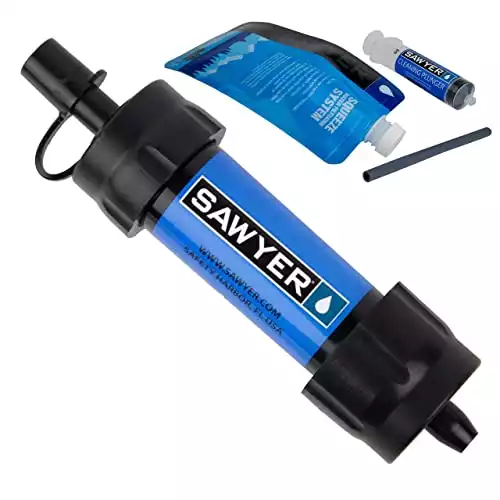 Sawyer Products MINI Water Filtration System
Easy to use, super lightweight, reliably removes bacteria and protozoa from water, and is incredibly cheap.
Weight: 2oz
Micron Rating: 0.1
Filter Life (Gallons): 100,000
Flow Rate: 0.6 ltr\minute
Reviews of the Top 6 Water Filter Straws
#1 Sawyer Mini Water Filter
Weighing just 2 oz, the Sawyer mini water filter is small enough to fit in the palm of your hand but powerful enough to remove 99.99999% of all bacteria and protozoa.
It achieves this courtesy of its 0.1-micron hollow fiber filter. Other products fall short with a 0.2-micron filter that could let nasty Ecoli and salmonella bacteria through. It also removes 100% microplastics and most poly-fluoroalkyl substances (PFAS).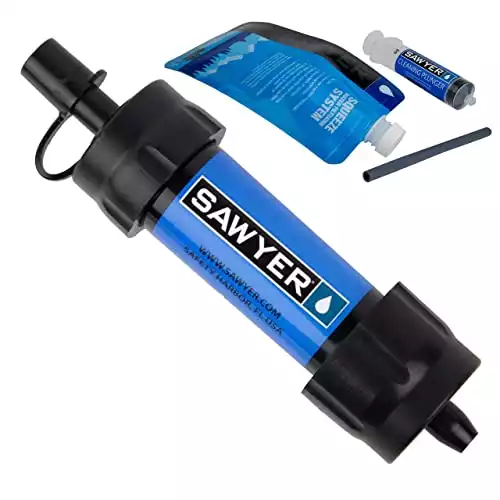 This water filter is versatile enough for you to drink straight from the source or attach it to your survival canteen or reusable water bottle. Designed to fit on the threads of most common bottles, you can use the Sawyer water filter to clean water before storing it or using it for cooking.
Along with the water filter itself, you'll also get a cleaning plunger or syringe, which helps extend its 100-000-gallon lifespan even further.
This longevity is one of the reasons it won our head-to-head versus the LifeStraw and why it's ranked in our top picks for the best survival water filter.
This robust piece of equipment is designed for use in the wilderness and can withstand all types of abuse. One thing to note: don't over-tightening the filter when attaching it to a bottle or the included 16 oz squeeze pouch, as this can cause damage to the threads and gasket.
Pros:
100,000-gallon life expectancy
Compatible with standard water bottles
Uses 0.1-micron filter
Cons:
Over-tightening weakens gasket
Flow could be better
---
#2 Survivor Filter Personal Water Filter Straw
The Survivor water filter straw gives our top pick a real run for its money with its sophisticated filtration features, long lifespan, and versatility. Its multi-layer filtration system cleans water down to 0.05 microns, making it even more effective than the Sawyer Mini.
Lab tests indicate that this is one of the best water filter straws, removing 99.999% of bacteria, 99.999% of protozoa, and 89% of mercury and lead. The carbon filter mouthpiece is made from food-grade coconut shells, which the manufacturers say enhances filtration and improves the taste.
Compatible with any 28mm threaded bottle, it's suitable for drinking straight from the source and storing clean water for later use.
It won't last as long as our top pick, however, and you'll need to replace the filters after approximately 25,000 gallons, giving a quarter of the lifespan of the Sawyer Mini.
At 3.5 oz, the Survivor water filter straw won't add much weight to your bug-out bag, nor will it take up a lot of room. Robust and portable, it also comes with a lifetime guarantee.
Pros:
Three-phase filtration
0.05-micron filter
Compatible with 28mm threaded bottles
Cons:
Limited lifespan
Heavier than other models
---
#3 LifeStraw Peak Water Filter Straw
Designed with your bug-out bag in mind, this water filter has an unlimited shelf life. It doesn't matter how long it languishes in your basement – it will still filter nasty bacteria, parasites, and microplastics out of your water.
LifeStraw has come a long way since its inception in 1994. The latest model features a re-engineered filter that reduces clogging. Previously, sand and silt would accumulate, causing blockages.
On the downside, the membrane microfilter is just 0.2 microns, so it won't do as thorough a job as Sawyer's 0.1 model.
Its life expectancy is also limited in comparison. The LifeStraw Peak will filter just 1,000 gallons, compared to Sawyer's 100,000. This product is a few dollars cheaper than the Sawyer, but that's not enough to compensate for its limited lifespan.
The LifeStraw Peak is still a cost-effective purchase and meets the NSF P231 drinking water standard, which sets out the health effects of the materials used, and the water filter's actual reduction performance.
Although this water filter straw weighs much the same as our top pick, it's almost twice as long, so it won't fit neatly into the palm of your hand. At 10 inches, it won't take up a huge amount of space, but it is more cumbersome than the best models.
Pros:
An improved filter prevents clogging
Unlimited shelf life
Meets NSF P231 and EPA protocols
Cons:
Short life expectancy
0.2-micron filter
---
#4 LifeStraw Go Filter Bottle with 2-Stage Filtration
This upmarket offering from LifeStraw contains activated carbon, which removes metals and other contaminants, bacteria, and parasites.
Although this filter will need changing after filtering 1,000 gallons, the bottle itself will last forever, which you'd expect after paying double the price of other reputable brands.
Despite its high price, the LifeStraw Go Filter bottle's ability to remove contaminants isn't great. Unlike the Sawyer Mini, which removes 99.99999% of all bacteria and protozoa, this model removes just 99.999% of bacteria and 99.9% of parasites.
This discrepancy may not sound like a big deal, but even the slightest difference increases your chances of catching a nasty disease when dealing with microorganisms.
Although slightly smaller than the LifeStraw Peak, the LifeStraw Go Filter weighs nearly four times more, at 8.6 oz. Again, that isn't a lot in itself, but it could prove critical when trying to keep your bug-out bag weight down.
While not exactly lightweight, the bottle is durable and comes with a leakproof lid for transporting and storing filtered water.
Pros:
Activated carbon removes metals
Durable, long-lasting bottle
Leakproof lid
Cons:
Expensive
Filters fewer parasites than the best water filter straw
Heavier than the competition
---
#5 HydroBlu Sidekick 3-Stage Straw Water Filter
At just 1 oz, this is by far the lightest straw water filter you're likely to find. While lightweight and straightforward in its design, the HydroBlu is robust and effective.
It contains a 0.1-micron ultrafiltration hollow fiber filter that removes 99.999% of bacteria and an activated carbon filter that removes heavy metals such as iron, lead, nickel, and zinc.
As effective as these filters are, they don't last as long as some of the others we've reviewed, and you'll need to replace both after filtering 50 gallons of water. These filters clog up relatively easily, but you can quickly resolve the problem by blowing into the device to remove the blockage.
The HydroBlu's affordable price is reflected in the quality of its components, and the replaceable filter at the bottom of the straw is far too flimsy for the rough and tumble of a survival situation.
There's also no way to store filtered water unless you suck it up and then spit it into a container, which is far from hygienic. Lightweight and practical enough for a camping trip, but not something you'd want to rely on when the SHTF.
Pros:
Activated carbon and hollow fiber filters
Affordable
Leakproof lid
Cons:
Clogs easily
No storage options
---
#6 LifeStraw Personal Water Filter
The original LifeStraw water filter straw still holds its own, despite failing to keep up with the likes of the Sawyer Mini.
It weighs just 2oz and can filter up to 1,000 gallons of water. It may not be quite as effective as our top choice, but it still does an impressive job.
Its 0.2-micron hollow fiber filter can remove 99.9999% of bacteria and 99.9% of parasites. However, this water filter lacks an active carbon filter, so it won't do much to remove heavy metals, chemicals, and other contaminants.
Like the HydroBlu, the LifeStraw is designed for drinking straight from the source, so it doesn't provide any storage options. You'll need to upgrade to one of the other LifeStraw products reviewed here to get that luxury.
On the plus side, the original LifeStraw is far more affordable than many of the company's other products and can filter around 1,000 gallons before it needs replacing.
Although lightweight and compact, the LifeStraw isn't particularly easy to use. If you want to drink water from it, you need some suction power, the equivalent of a Dyson vacuum cleaner! It also clogs easily and won't tolerate being dropped.
Pros:
Effective filtration
Affordable
Lightweight and compact
Cons:
Difficult to use
Not robust enough for extreme situations
---
How To Choose a Water Filter Straw
Whether it's a greater awareness of the dangers of contaminated drinking water, or an increased desire to explore the wilderness, water filter straws seem to be growing in popularity.
That increased demand means more options than ever before, but some simply aren't worth the risk. To avoid investing in something that could endanger your life, use the following criteria when shopping around for the best water filter straw:
Filtration Technology
Any water filter straw worth purchasing should have filtration technology that removes everything down to a 0.2-micron level. Ideally, it should combine a pre-filter with hollow fiber and active carbon filters. This combination will ensure it removes heavy metals, bacteria, parasites, and protozoa.
Read more about emergency water purification methods.
Life Expectancy
Most water filter straws can filter around 1,000 gallons of water before they need replacing. This represents good value for money and a certain level of durability.
The best models can give you 100,000 gallons of fresh drinking water before they need replacing, which means your investment goes that much further.
Ease of Use
The amount of water you get while sucking on a water filter straw varies from product to product.
With some, like the LifeStraw personal water filter, you need to suck like a vacuum cleaner to get the smallest drop of fluid, making hydration more of an effort than it should be.
Other models get clogged quickly, and you'll need to blow out the blockages every other sip. The best option has a steady flow rate and filtration technology that limits clogging.
Portability and Durability
As with any survival gear, you need a water filter straw that's lightweight yet robust. The best products weigh less than 2 oz and fit into the palm of your hand.
They also come with carabiners or clips, so you can attach them to the outside of your bug-out bag rather than trying to find room for them inside. If your straw is bouncing around on your belt or backpack, it needs to be pretty robust if it's going to survive the experience.
There's a limit to how much stuff you can cram into a bug-out bag, and if your water filter straw takes up too much space or too much of your weight allowance, you'll soon come to resent it.
Quality of Taste
A water filter straw's primary aim is to make water safe to drink, but if it can also make it palatable, your chances of dehydration will be much lower. Products like personal water filter straw from Survivor use coconut shells in the carbon filter to improve the flavor and encourage its users to stay hydrated.
Conclusion
The Sawyer Mini Water Filter combines effective filtration with durability and affordability, making it tough to beat.
The Survivor personal water filter comes a close second offering as it does an active carbon filter to remove heavy metals, bacteria, and parasites. It's too heavy and expensive to knock the Sawyer off its number one slot, but it does guarantee the water you drink will be free of contaminants.