Wilderness hygiene isn't just about getting rid of your stink so your fellow campers don't have put up with your body odor all day.
It is important to maintain hygiene in the wilderness to keep yourself healthy and safe.
If you get too dirty, you are going to get sick, attract bugs, and probably get some nasty rashes too.
Here are some wilderness hygiene hacks which are great for camping, bugging out, or surviving the zombie apocalypse.
Don't Skimp on Extra Socks and Underwear
I know you are trying to pack light, and you won't be able to pack 30 days worth of cloths in your Bug Out Bag. But don't skimp on the socks and underwear!
While it is okay to re-wear dirty shirts and pants, your feet and groin get sweaty fast.
Sweaty, wet clothes can fester bacteria, which means rashes and open sores on your skin. Trust me, you do NOT want this to happen! So pack a few extra socks and undies just in case.
Rotate Your Socks
While on the topic of socks, you should rotate your socks too. As soon as they start getting sweaty and wet, switch to a dry pair (hang the sweaty ones on your pack to dry out). This will keep your feet dry and prevent blisters.
Check out our post on the best survival socks if you want to know which ones are suitable.
Change Your Clothes before Going to Bed
Always have a clean pair of pajamas to change into before going to bed. You don't want to wear dirty clothes to bed because they will get your sleeping bag dirty and because sleeping in dirty clothes will give you a rash.
Bring a Shovel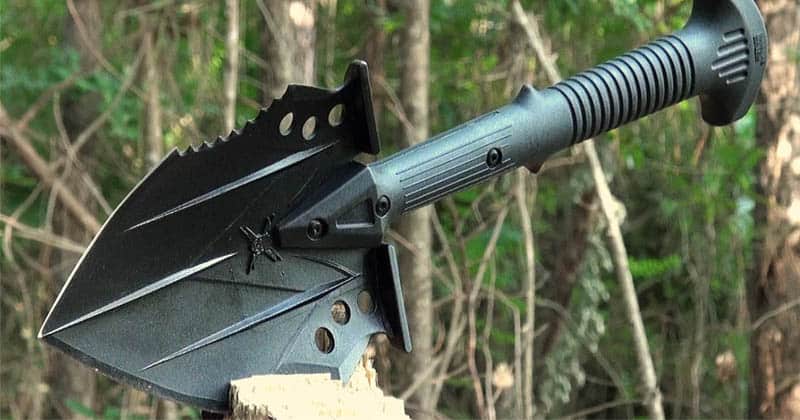 A small camping shovel is one of the most important things you will need for maintaining hygiene in the wilderness.
Why?
Because you should dig a hole at least 6 inches deep before going to the bathroom in the wilderness. Then you cover the hole up with dirt when you are finished.
Otherwise, you risk serious contamination around your campsite.
We reviewed the Gerber E-tool which would be ideal for this task.
And remember, your designated bathroom area should always be about 200 feet away from camp.
Female Hygiene
After numerous backpacking trips I've learned a few things about female hygiene in the wilderness.
Here is a quick overview but I go more in-depth in this post.
Use a menstrual cup. It will save you space in your pack. Avoid using pads because there will be too much moisture, and that can cause rashes.
Pack enough toilet paper. Wiping with leaves may be more natural, but they are abrasive and dirty, which can lead to yeast infections.
Wear loose clothing. Avoid synthetic materials for your panties. Otherwise, you will get chaffed and the moisture from sweating will cause yeast infections.
Say NO to Deodorant!
As much as you love your stick of Old Spice, leave it out of your wilderness survival pack.
Why?
Because deodorant contains various ingredients which bugs (not to mention other wildlife) find irresistible. You will soon find yourself covered in itchy bug bites, and itching leads to open sores, which leads to infections….
If you are worried about stinky armpits, then just wash your pits well with soap and water. Or, bring along a baggie of baking soda and rub this under your armpits.
Wash Your Hands!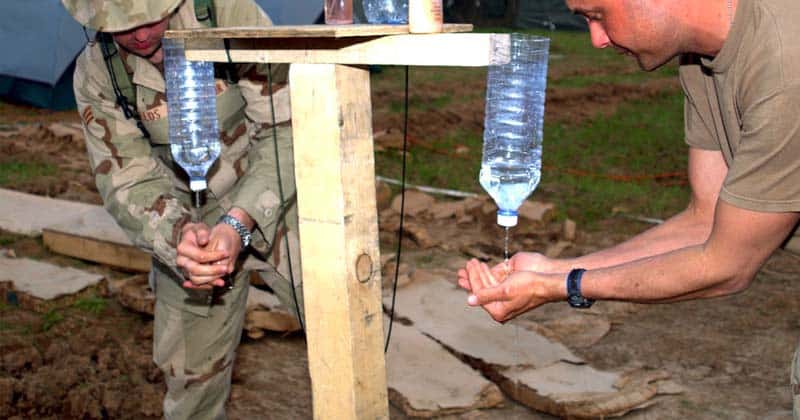 This one should be obvious, but the normal hygiene rules often get thrown to the wind in wilderness survival situations.
Always wash your hands
After going to the bathroom
Before cooking meals.
Otherwise some gross fecal matter is going to get into your food and can make you sick (don't even try to blame it on contaminated drinking water!).
Don't have a water source for washing your hands?
Instead of wasting your precious water reserves for hand washing, you can just bring a bottle of hand sanitizer with you. The ethyl alcohol in it will kill germs on contact.
Alternatively have a look at these methods of washing your hands without running water.
Bring a Bandana
When you pack for survival, you've got to pack light. So every single item of clothing better have a good purpose. A bandana is a great thing to pack because it can serve so many purposes:
Protect your head from sunburn
Use it as a bandage
Use it as a tourniquet' Learn how to use a tourniquet.
For marking a trail
And dozens of other uses
As far as hygiene goes, a bandana makes a great wash cloth. So bring one along instead of a bulky towel.
Pack Dental Floss
Dental floss is another great multi-purpose item to pack in your survival bag. It can be used for fishing line, for sewing up a torn backpack, and a bunch more.
But don't forget to use its intended purpose of flossing your teeth too!
After just a few days of slacking on dental hygiene, your gums can become swollen and inflamed. And this is going to HURT like hell, plus make it hard to eat.
Bathing in Rivers and Streams
Rivers and streams are great for taking baths! But try to avoid areas of stagnant water for your bath.
Bacteria and algae fester in areas where water doesn't move.
Also avoid any areas which are breeding grounds for fish or insects.
File Nails with Rock
Long nails can be a hazard when you are trying to survive. They get dirt built under them, which can mean bacteria getting into your food.
A long nail can also easily break, and having jagged nails is going to hurt!
Keep your nails trim and smooth by filing them with a rock or on a piece of concrete.
Tea Tree Oil Insect Repellent
Mix 1 part tea tree oil (which you can buy at health food stores and natural pharmacies) with 2 parts water. It not only works as a natural insect repellent (good for ticks too!), but helps kills bacteria on your skin and keeps you feeling fresh.
Keep Trash Away from Camp!
Not only should you poop 200 feet from camp, but you should keep your trash far away too.
Having trash around camp will attract unwelcome bugs and wildlife.
Do you have any wilderness hygiene hacks to share? Let us know in the comments.