The best survival knife is one that can complete a desired task without breaking. It holds up under pressure and can withstand heavy use. It's versatile and practical, and as such, can fulfill an array of needs. The best survival knife will be the one that saves your life when you need it to.
But that looks a little different for everybody. Individual needs vary from person to person and from one geographic location to the next. Moreover, some knives are better suited for certain tasks than others. That's why most of us carry more than one.
While many key features can overlap from one knife to the next, here are the best survival knives for the most common survival tasks.
Best Overall
Ka-Bar Bowie USMC Fixed Blade
I've used a lot of knives in my half-century plus of walking this planet, and when it comes to survival, the Ka-Bar continues to be my all-time favorite. Born in 1942, not only is this knife a walking legacy, it's withstood the test of time and remains one of the most popular survival knives on the market.
The handle is made from leather washers that are compressed onto a full tang, then fastened with a pinned-on butt cap. A headed steel pin is then driven through the pommel and into the tang, giving the handle enough durability to use the butt as a light-duty hammer.
The handle allows for a full four-finger grip and has quite a comfortable feel. Although the handle is made of leather, when properly cared for it can last a lifetime. And if not, it will eventually corrode away, but it can always be replaced.
The blade features black-coated 1095 Cro-Van steel to minimize any reflection, making it ideal for field use. Its clip point makes it the perfect tool for piercing and punching holes, or even opening cans when you've lost your P-38.
It offers a flat grind, giving the Ka-Bar a wide spectrum of functionality for all tasks cutting and whittling. Its 7-inch blade and .17-inch spine make it long enough and wide enough for heavy-duty batoning tasks.
You'll find the Ka-Bar is easy to sharpen and holds an edge well. The strong blade provides moderate corrosion resistance with proper maintenance. Plus, the gold-plated brass guard prevents your fingers from slipping onto the blade.
The Ka-Bar is by far one of the best jack-of-all-trades survival knives. Whether you're hammering, digging, or building fires, traps, and weapons, the Ka-Bar can pretty much do it all. If I could only have one knife, I'd bet my life on the Ka-Bar. Just make sure you're getting a true Ka-Bar because there are plenty of forgeries on the market.
Pros:
Versatile and functional

Glare-resistant 1095 steel

Full tang

Sturdy and durable
Cons:
Leather handle and sheath

Heavier and larger than some
---
Best Tactical
Wander Tactical Lynx Blade
Whether you're clearing foliage, chopping wood, or opening ammo crates, a good tactical knife can take on big tasks and cut through rough material. Aside from providing a defensive advantage, tactical knives serve many purposes that expose them to harsh elements and continuous abuse.
The Wander Tactical Lynx is a finely crafted weapon that's small enough to deploy as your EDC in the field and more than capable of withstanding the harsh elements of Mother Nature. Starting with the nicely contoured Micarta handle with grooved texture for increased traction, this blade fits comfortably in the hand with a full four-finger grip.
It offers both a front-finger choil and jimping on the spine for increased control and maneuverability. The almost two-inch wide, hefty drop-point blade features a full quarter-inch D2 tool steel that's nearly impossible to bend or snap. It's both easy to sharpen and holds an edge well.
Moreover, it has a KG Gunkote finish that provides corrosion protection against both elements and chemicals, as well as eliminating any sun reflection. It's also been chemically treated to withstand temperatures from -320° F to 500° F.
This full-tang blade offers over four inches of cutting edge with a flat grind, making it suitable for most daily field tasks, and the thick blade makes it ideal for prying without fear of snapping.
The Lynx can feather sticks, strip bark, split wood, chop small branches, and start fires with ease. You also get a MOLLE-compatible Kydex sheath to wear on your belt or your gear. If you can swallow the price, this knife is a dream come true with hardly a flaw at all.
Pros:
Full Tang

¼" thick D2 tool steel

Choil and jimping

KG Gunkote finish

Lifetime warranty
Cons:
Expensive

KG Gunkote wears off over time
---
Best for Batoning
Condor Undertaker Bowie Blade
Baton working is no easy task and the science behind it is akin to that of hatchet work. The best baton knives feature large, full-tang fixed blades with a square spine and beefy handle. The blade should be high quality and built to handle abuse.
Enter the Condor Undertaker Bowie.
This beast of a knife is over a foot long and offers over 10 inches of a full tang blade for batoning, which means you can split some pretty large logs or even chop down small trees. The walnut handle provides plenty of room for all four fingers and even has a lanyard hole for convenient carrying.
The 1075 steel blade is a tougher metal and makes for better chopping, but it won't hold an edge as well as the standard 1095 steel. The flat grind can slice apples just as well as it can feather sticks, and the satin finish reduces reflection.
The blade is tapered to a fine clip-point tip, so it's easy to start pilot holes for friction fires, and the spine has plenty of width for striking Ferro rods.
For a knife of this size, it's actually balanced quite well. The Condor Bowie makes it easy to do small knife chores while providing all the perks of big knife jobs like chopping and splitting wood. This knife is very versatile in a survival situation.
The Condor Undertaker can be used for skinning and butchering, bushcraft, survival, and self-defense. Although the handle is wood, it does seat nicely with the added pressure from your grip. There's a good-sized handguard that prevents your hand from slipping onto the blade, but there is no contour or flare in the scales to keep the knife from slipping out of your hand.
Pros:
Full tang with good balance

Extremely versatile

Satin finish

Perfect for chopping and batoning

Able to withstand lots of abuse
Cons:
Walnut handle

No contour in scales

Leather sheath
---
Best for Starting a Fire
White River FC5 Firecraft
One of the most basic survival skills is starting fires, and some of the best fire-starting knives today come integrated with their own ferro rods. I find the White River FC5 to be one of the best survival knives with fire-starting capabilities.
From an aesthetic standpoint, the White River FC5 comes in a finely crafted wooden box along with its very own White River branded lighter. Plus, it comes with a high-quality Kydex drop sheath with a ferro rod holder.
The handle is made from heavy-duty Micarta with orange G10 spacers on both sides of the tang that make it easy to spot. The handle provides a four-finger grip and has a stainless steel bow-drill socket in case you lose your fire rod.
It has a good sized choil for finger placement and jimping on the spine, providing better control and maneuverability. The spine also features a striking groove for your ferro rod to make fire-starting a cinch.
The FC5 has a beefy blade made from CPM S35VN steel, so it offers a fantastic balance between corrosion resistance, hardness, and toughness and features superb edge retention. However, it requires a little more work to sharpen.
It also features the versatile flat grind, so it's adaptable for slicing and woodworking, and a clip-point blade for piercing. The stonewash finish hides the scratches and enhances rust resistance while minimizing reflection. You can buy this knife with a four-inch, five-inch, or seven-inch blade to suit your preference.
Pros:
Micarta handle with G10 spacers

Kydex Sheath

Ferro rod and striker notch

Bow drill divot

Choil and jimping

Multiple size options
Cons:
Harder to sharpen

Expensive
---
Best for Bushcrafting
TOPS BOB Fieldcraft
Skilled bush crafters engage in a variety of woodwork and survival tasks including fire building, hunting, trap making, and shelter building. As such, a versatile knife suitable for myriad tasks is a necessity. A good bushcraft knife should have a quality, ergonomically curved handle and a Scandinavian grind that's solid enough to cut through both wood and hide.
The BOB Fieldcraft knife is a superbly crafted versatile knife that features an abundance of high-quality perks at a relatively affordable price. For starters, it features top-of-the-line G10 scales with a bow-drill divot for fires and an oversized lanyard hole. There are a variety of scale colors to choose from, allowing you to personalize this blade to your liking.
The 1095 steel blade is almost five inches long, 3/16 of an inch wide, and features the bush crafter's favorite long Scandinavian grind that excels at woodworking tasks, such as carving, splitting, and feather sticking, as well as skinning. It should be noted, however, that Scandi grinds require frequent stropping to avoid a secondary bevel.
The blade provides good edge retention, hardness, and wear resistance.
This BOB Fieldcraft is designed with a drop-point blade that has a strong tip suitable for slicing and meat processing, in addition to traditional bushcraft work. There's good jimping on the spine for added control and maneuverability.
The full tang extends beyond the scales to create the pommel, which also acts as an impact tool. Additionally, the pommel features a cutout to use with the ferro rod since the blade itself is covered in a protective powder coating.
As a bonus, you also get a quality Kydex sheath with a belt clip, ferro rod, and whistle blower.
Pros:
Full tang

Scandinavian grind

Solid 1095 steel blade

Protective non-reflective coating

G10 scales

Kydex sheath
Cons:
Requires frequent stropping

Jimping hard on thumb
---
Best Folding EDC
Spyderco Paramilitary 2
Foldable knives don't make the best survival knives because they fold on a hinge, and that gives them a very significant weak point. Additionally, you run the risk of the locking mechanism breaking, which could be harmful to your fingers. Yet, I still find myself carrying one everywhere I go.
Folding knives are a great survival EDC that can be carried without drawing attention to yourself. They rest comfortably in your pocket, belt, or purse and are easily accessible when you need it. The benefit of a folding EDC is that you can pretty much take it anywhere, and you have something to work with during an unexpected emergency or catastrophe.
The Spyderco Paramilitary 2 is an above-average pocket folder that's lightweight yet capable of heavy use. The scales are made from lightweight and weather-resistant G10 with a peel-ply texture for added traction placed over stainless steel liners for added rust and corrosion resistance.
The handle features a prominent guard at the top to prevent your fingers from slipping onto the blade and a slightly contoured bottom to prevent the knife from slipping out of your hand.
The Paramilitary 2 is constructed with a CPM S45VN-modified clip-point blade with a flat grind for excellent slicing performance. It offers adequate corrosion resistance, edge retention, toughness, and ease of sharpening. The satin finish reduces glare and reflection.
The blade spine is fairly thick at the pivot, giving it a sturdy feel with little to no wiggle. The blade tapers to a fine point at the tip, making it a good tool for piercing or other fine detailed work. It has a round hole opening mechanism with full access from either side.
There's jimping on both the thumb ramp and the choil for excellent control and maneuverability. The blade locks into place with Spyderco's proprietary compression locking mechanism. The Paramilitary 2 also features a four-position stainless steel pocket clip for a variety of carry positions, and it's extremely lightweight, weighing in at under four ounces.
Pros:
Great portability

G10 scales

CPM S45VN steel

Good edge retention

Capable of heavy-duty use

Variety of colors and styles
---
Best Concealed Knife
ESEE Izula Blade
Many survivalists are in the habit of carrying a secondary blade in case the first one is lost, broken, or disarmed. This is often done in the form of a neck or boot knife. The advantage of a neck knife is that it's also a great way to conceal carry when you're wearing athletic or fine attire that leaves you short of belts and pockets, allowing you to sport a survival blade in any outfit.
At just under two ounces, my favorite neck knife is the ESEE Izula since it's hardly noticeable. These skeletonized drop-point blades are cut from 1095 steel with just over 2 ½" of cutting edge with a flat grind.
Overall, the ESEE Izula is a well-balanced, solid build. With a .16-inch spine, a good belly, and a flat grind, it's still sturdy enough to accomplish multiple survival tasks, such as feathering sticks, whittling, cutting cordage, etc.
The choil and jimping make it comfortable to hold as well as increasing control. The black finish minimizes any glare or reflection. It sharpens easily and holds an edge well.
The Izula also comes with a polymer sheath that's easy to sling around the neck, but it also offers a belt-clip attachment as a secondary option. If you prefer the added G10 handle, you can acquire the Izula II instead.
Pros:
1095 steel

Solid spine

Super lightweight

Very affordable

Unconditional lifetime warranty
Cons:
Not ideal for larger hands

No grips
---
Best for Hunting and Fishing
Buck 119 Special Blade
The Buck 119 has been a reputable knife since 1942 and continues to hold its popularity among hunters and fishermen. This near-full tang, 420HC, clip-point steel with hollow grind provides superior edge retention and is the perfect survival tool for skinning, fileting, field dressing, and butchering.
Many knife wielders are turned off by 420HC, but 420 is super easy to maintain while in the field. Plus, these blades are heat treated, resulting in more durability than traditional 420HC. The satin finish also helps reduce the glare and reflection of the blade.
Don't let the iconic look fool you. This blade is more than capable of performing multiple survival tasks, such as feathering sticks, batoning duty, and food prep. It's capable of going toe-to-toe with any Mora or Scandi knife when it comes to detailed precision work.
The .17-inch spine is stout and the hollow grind helps this blade perform exceptionally well at survival tasks that involve carving, cutting, shaving, slicing, or whittling. The hollowness prevents the blade from sticking, and, therefore, requires little to no effort, but the edges are also more prone to chipping and rolling, so it requires a bit more maintenance.
The handle is made from a phenolic polymer that holds up well to heat and stress, but there's not much traction in the grip. The ergonomics are extremely comfortable, with wide, soft grooves for finger placement.
It provides a full four-finger grip without hot spots and is easily wielded in both normal and reverse grip. The guard and pommel prevent slippage in either direction.
The sheath is quality genuine leather with excellent stitching that offers a generous belt loop with snap closure, interior plastic guard, and drainage hole.
Pros:
Lifetime warranty

Excellent precision work

Satin finish

Hollow grind

Heat treated for added durability

Quality leather sheath

Very affordable
Cons:
Only 90% tang

No traction on the handle

Requires more maintenance
---
Best for Emergency Medical Services
Spyderco Assist Salt H-2 Blade
If your purpose for a survival knife revolves around saving lives, then you can't go wrong with the Spyderco Assist Salt H-2. Favored by first responders, its key feature is a sheepsfoot blade that will prevent stabbing while trying to remove clothing or seatbelts. The blunt tip also makes for a useful screwdriver or prying tool.
Exclusive to Spyderco, its H2 steel offers better corrosion resistance and toughness so it won't rust, chip, or break during tough applications. Admittedly, the wear resistance and edge retention could be better.
The overall satin-finished blade length is just over 3 ½ inches long with an 80% serrated edge that's perfect for rope, seat belts, and thick clothing, combined with one inch of plain edge that has a flat grind for detailed cutting.
The handle is made from fiberglass-reinforced nylon (FRN) with a contoured four-finger grip and bidirectional texturing, giving it plenty of traction. Squeezing the handle with the blade closed reveals a retractable glass breaker.
The knife is ambidextrous and the pocket clip can be adjusted to fit your dominant hand. While this is a great survival knife for medical emergencies, it falls short of performing the necessary tasks for other survival situations and is almost exclusive to medical emergencies and maritime expeditions.
Pros:
Rustproof H2 steel

Perfect for medical emergencies

Integrated glass breaker

Ambidextrous

Bidirectional texturing
---
Best for Self-Defense
Fox Fixed Blade Karambit
When it comes to personal defense, I choose the Karambit above all others. And as with all other survival blades, I prefer a fixed blade over a folding one.
Inspired by the tiger's claw, the Karambit is designed for defense, making it the perfect backup to your sidearm.
Not only is the knife itself easy to conceal, but its striking path is also blocked from an attacker's view by the wielder's hand. Because of the unique design and safety ring, this weapon is also extremely difficult to disarm.
Fox Knives' fixed-blade Karambit features G10 scales and a Bohler N690 stainless steel blade. The N690 steel is easy to sharpen and can hold an edge for an extended period of time. It can also withstand a tremendous amount of stress and offers the perfect balance between toughness and hardness.
The 2 ½-inch hawkbill blade features a flat grind and a black finish, and the grip can easily house all four fingers. It comes with a Kydex sheath that can be carried tip up or tip down.
Karambits are also useful for performing many routine survival tasks and can be used for foraging and harvesting crops, cutting ropes and vines, whittling, and feathering, just to name a few. This is a very versatile tool that can save your life in more ways than one, but it's not the best choice for batoning or shelter building.
Pros:
G10 Handle

Full tang blade

Ambidextrous

Safety ring
---
Buyer's Guide
The three main features knife wielders search for are:
Simple construction
Easy maintenance
Versatility.
As with anything, you want quality construction. The more moving parts, the increased chance of failure.
When it comes to knives, you want one that has a strong blade, sharpens easily, and requires little upkeep.
There are a few universal criteria to keep in mind regardless of which knife design you choose to ensure you purchase a quality survival blade.
Knife Handle
When it comes to your grip, you want a knife with quality construction that's comfortable and won't slip. From an affordability perspective, G10 and Micarta are the biggest bang for your buck. They're both very tough and durable enough to use the butt of the handle as a light hammer substitute.
They generally provide enough traction that your hand won't slip with moisture, and they're unaffected by changes in temperature, humidity, or exposure to UV. Although not required, I prefer a handle that's large enough to house all four fingers and provides choil and jimping for better control.
Knife Blade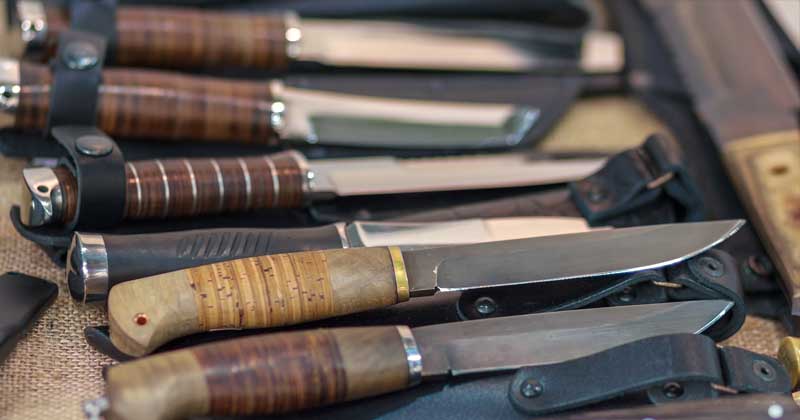 For the most versatility, your blade should have a good point and be at least four to five inches in length. A fixed blade with a full tang is much stronger and more durable than a folder or partial tang, and in most cases, a straight edge is preferred over serrations.
Ideally, a solid survival knife should be at least 3/16- to ¼-inch thick and have a beefy blade with a solid belly. Most wielders select a blade between four and seven inches depending on their needs.
The spine should have a 90° edge to effectively scrape bark, strike a ferro rod or flint, or baton wood. The blade grind essentially determines the extent to which your blade will function, and the grind height directly affects the grind angle and significantly influences the strength and flexibility of the blade.
Flat grinds and Scandinavian grinds are the easiest to sharpen in the field, but, as mentioned, the Scandi requires frequent stropping.
Lastly, when it comes to a survival knife, a nonreflective blade is a must-have. Not only does it increase durability and reduce corrosion, but it also enhances concealment and tactical advantage.
Blade Steel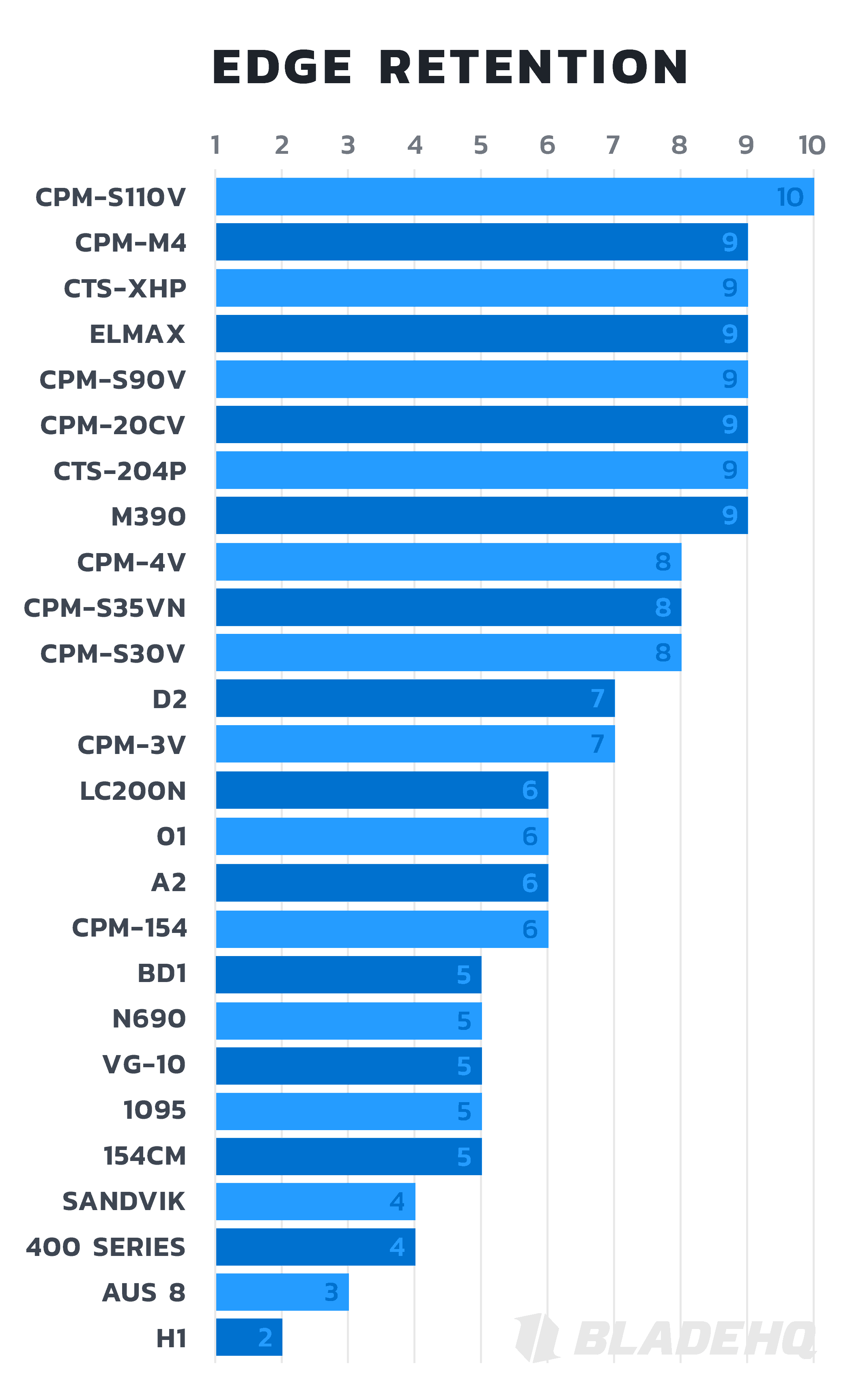 There is a whole spectrum of knife steels on the market, and the best steels are often hotly contested. There are pros and cons to each steel type, with preference for high carbon steel, stainless steel, or tool steel.
For survival blades, I prefer 1095 or D2 because they are easy to sharpen and hold an edge well, and in my experience, they provide the best control in cold and wet conditions.
While there might be better steels out there, you actually want a softer blade for your survival tool because in a true survival scenario, it's doubtful you'll have a sharpening kit. This means you'll have to rely on your environment to keep your blade in top condition.
One of the drawbacks to 1095, however, is that it rusts and stains easily if not properly cared for. Therefore, you must keep a 1095 blade well cleaned and properly lubricated.
Blade Finish
The finish of your blade significantly impacts its durability and resistance to scratching. Certain finishes improve resistance to corrosion and rust.
Stone washing, satin finishes, and Gunkote are some of the more common tactical and survival finishes used to enhance the structural integrity of your blade.
Things Your Survival Knife Shouldn't Have
It's not uncommon for "survival knives" to come with lots of unnecessary bells and whistles. Such "cool" features usually significantly limit your blade and impede its performance.
Avoid serrations along the spine of your blade. They're unnecessary and usually create more of a hazard than a benefit. Stay away from knives that have decorative holes in the blade or handle. They only weaken your blade and serve no functional purpose whatsoever. (To avoid any confusion, this is not referring to Spyderco's opening mechanisms.)
Avoid bizarre blade shapes and designs and stick with traditional designs like drop-point, clip-point, and spear-point blades. These designs have withstood the test of time and proven their ability to complete survival tasks.
Conclusion
With so many knives on the market, it's extremely challenging to pick just one. Perhaps that's why I have so many. However, if I were going into a survival situation with only one blade, it would have to be my long-trusted friend, the Ka-Bar.
Putting my sentimental blade aside, the Wander Tactical Lynx is an elite weapon that I'd carry into a survival scenario any day of the week. You won't find a better-crafted survival knife.