A ham radio is a must-have for any prepper who wants to be able to communicate with the outside world when all other forms of communication have gone down.
Read more about using Ham radios in emergencies.
However, when the grid is down, resources become a serious concern. You want a radio that goes the distance without consuming all your power. These are my tried and true favorite ham radios and the reasons I like them.
Best Overall
Xiegu G90 HF Radio
The Xiegu G90 is your best option for a grid-down scenario. A basic QRP HF ham, it's simple to use and will conserve resources.
Best Budget Pick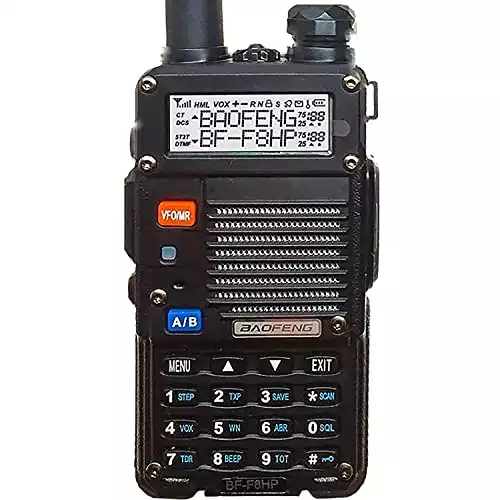 BaoFeng BF-F8HP
The UV5R is a highly affordable entry-level ham that provides you with the communication essentials you need without breaking the bank.
Reviews of the Best Ham Radios for Preppers
Best Overall: Xiegu G90
Specs:
Power: 20 watts
Channels: 20
Modes: SSB/CW/FM/AM
If you're looking for a basic high-frequency (HF) radio, then the Xiegu G90 is a great way to get started in ham, but it doesn't have VHF.
It operates in high-frequency mode from .5 to 30 mHz and transmits in all amateur bands from 1.8 to 29.999 mHz plus 60 meters. It can function in SSB, CW, and AM/FM modes.
The Xiegu G90 has a built-in digital signal processing (DSP) and antenna tuner that's very easy to use, so you don't have to worry about finding filters. Additionally, while the G90 does offer a color display, it can be disabled to save current. It also features a multifunction knob that allows you to assign different functions based on your preferences.
You can enable or disable split frequency operations, operate in channel or memory mode, and switch between primary and background VFO. There's also a handy lock button on the interface that prevents any unintended adjustments while you're on the move.
The side of the radio features a mic port, and most of your radio functions can actually be accessed from the included mic.
Unfortunately, the G90 does not have an internal audio interface, but there is a connector on the back, so you can install a Digirig.
The G90's current consumption for receiving is 500 mA. For a grid-down scenario, this is a little more than ideal, but the 20 watts of power for output is a nice tradeoff, making it evenly balanced between high-powered (QRO) and low-powered (QRP).
This G90 does not have an internal battery pack, but a pocket portable generator is more than sufficient to power this device.
The Xiegu is a great option for basic emergency use. However, you'll need to add a Digirig, an audio interface for data modes, and a hand-held transceiver for local communications.
Pros:
Best QRP option
Affordable
Built-in antenna tuner
4000+ km range
Excellent sound quality
Only 2.2 lbs
Cons:
Limited to HF
Can overheat with extended use
Requires DB-9 cable for removable display
No internal battery
---
Best Budget Friendly: BaoFeng UV-5R 3rd Gen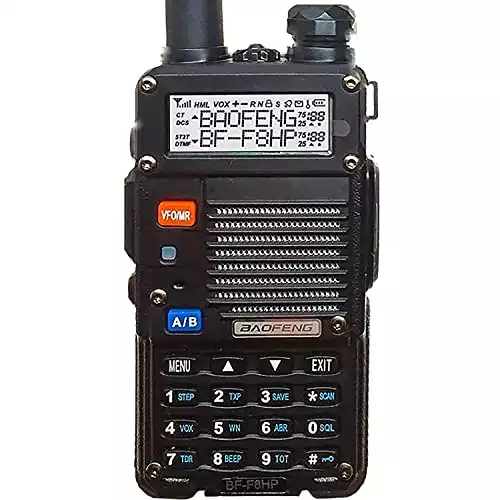 Specs:
Power: 8 watts
Channels: 128
Modes: FM/VHF/UHF
Likely one of the world's most popular ham radios, the BaoFeng UV-5R covers 2 meters and 70 centimeters (136–174 and 400–520 MHz) with dual-band and dual frequency display. It has a whopping 128 memory channels and supports CTCSS, DCS, and DTMF.
Likewise, the BaoFeng transmits and receives on amateur bands, any analog frequency, marine channels, family radio service (FRS), GMRS, and VHF bands from 65 to 108 MHz that cover regular FM broadcasts.
Dual frequency lets you listen to two channels at the same time, and the A/B button on the face lets you easily switch back and forth between the two for transmitting. It also lets you easily switch between UHF and VHF modes.
Although the BaoFeng does require programming, which can be painful if you're a newbie, you simply can't beat the price or functionality of the UV-5R. You can connect the radio to your computer to program all your channels, and you can also custom-name your channels utilizing the CHIRP software.
Out of the box, the UV-5R gives you approximately a 5–6 mile radius if your terrain is clear, but its antenna is replaceable, so you can upgrade to one with a longer range.
The UV-5R operates in Variable Frequency Oscillator (VFO) mode or memory mode (channel mode). With VFO, you can type frequencies directly into the radio or use memory mode to switch between saved channels.
Overall, this is a great entry-level radio that's economical, durable, and just fits well in the hand. It's popular, affordable, and has all the basic features that you need in a grid-down situation.
If you're not really into the amateur radio hobby, then this radio gives you everything you need for an emergency without having to spend a small fortune on equipment that you would otherwise never use.
Pros:
Extremely affordable
128 memory channels
Dual-band & dual receive
Good battery life
Scanning abilities
Waterproof
Cons:
Requires purchase of programming cable
Complex programming
Vague instruction manual
Lack of quality customer support
---
Best Everyday Carry: Yaesu FT-5DR
Specs:
Power: 5 watts
Channels: 79
Modes: AM/FM/VHF/UHF/SW/C4FM
The Yaesu FT-5DR is a 5-watt radio with basic standard VHF/UHF. You can transmit, receive, and wide-receive depending on your channel. However, the cross-band feature offers two independent dual bands that will support any combination of VHF/UHF, as well as short wave, AM/FM broadcasts, analog TV stations, audio aircraft, and public-service channels.
One of the greatest features of this radio is that it is easily programmable by hand, alleviating the need for additional cable and computer programming, although that's still an option if you prefer.
The FT-5DR has a unique touchscreen interface with a screen lock, although many ham users dislike the amount of pressure required to use it.
I like the FT-5DR as an everyday carry option for those who spend a great deal of time outside and prefer to keep a radio nearby. This ham is rugged and can take a beating, and comes with an IPX7 waterproof rating.
The APRS function lets you receive packets of data, store them via internal memory, and then retransmit it on the same frequency, which is particularly useful for communicating between two moving vehicles.
It has an impressive A/B band with an extended spectrum, giving you access to simultaneous AM/FM broadcast reception, shortwave band, air band, and C4FM digital modulation technology that allows you to talk digitally to other digital radios and repeaters.
The FT-5DR is great for outdoor navigation. Not only is it lightweight, but it also has a backtrack functionality that allows you to set a navigation point using the embedded GPS that can get you from point A to point B and back again.
The wideband receiver monitors 79 channels simultaneously, and the air band receivers allow you to listen to overhead aircraft transmissions.
Pros:
Wide spectrum of bands
C4FM digital communication
Bluetooth option
Memory Auto Grouping
High-resolution touch screen
Programmable by hand
Battery compatible with 2DR & 3DR
Convenient belt-clip attachment
Long-life 2200 mAh Li-ion battery
Cons:
Confusing menu system
Subpar volume output
Lower wattage compared to others
Bit expensive
---
Best Mobile: Yaesu FT-991A
Specs:
Power: 100 watts
Channels: 160
Modes: MF/HF/VHF/UHF/C4FM/SSB/CW
If you're looking for something powerful yet still mobile, the Yaesu FT-991 is an astounding all-mode, all-band radio that even comes with a carrying handle and foot stand. This 100-watt radio makes a great addition to any go-kit, particularly when mounted in a vehicle that can supply a power source.
You can easily read the display in bright sunlight when it's adjusted to 100%, but it's harder at lower power levels. The FT-991 also has excellent audio quality from its built-in speaker. This drastically reduces background noise interference in high-frequency bands. It also features a 3 kHz roofing filter, which is a nice step-up from previous Yaesu FT models.
A superb emergency feature of the Yaesu FT-991 is its ability to record up to five different messages up to 20 seconds long each. If you find yourself in need of a CQ call and are trying to reach anyone who will answer, you can enable the voice queue of your recorded messages or even Morse code messages.
Its dual thermostatically controlled fans prevent it from overheating in those high summer temperatures, and it even provides frequency stability from -10 C° to 50 C° during the cold winter months.
Many HAM operators feel this rig draws too much power for a portable rig. Its 2-amp current draw on receive is a bit much when you're looking for a QRP option, and experienced operators agree Yesua's 891 is a better alternative.
Using lithium-iron phosphate batteries over SLAs can conserve power to some degree, and there's some adjustability within the menu options. Using the FT-991 as a mobile unit in your vehicle and operating off of your car battery makes the power draw a little less concerning.
The biggest complaint on the FT-991 is there's no display for the input voltage, which negates your ability to monitor your battery supply. Running a portable with too little voltage can actually damage your rig, so this is a critical issue. Albeit inconvenient, an external voltmeter solves this issue.
This radio operates in all bands and modes with little to no operational complaints from the field. It's compact, lightweight, and rigorous enough to withstand daily portable operations. While the 991 offers more modes and frequency options, the 891 is lighter, has better battery longevity, and draws less current.
Pros:
Comes with a hand mic
3 kHz roofing filter
Support for ATAS (Active Tuning Antenna System)
Monitors up to 63 channels simultaneously
Connects to your vehicle battery
Cons:
May draw too much power for a portable rig
No display of the input voltage
---
Best Base Station: Icom 7300
Specs:
Power: 100 watts
Channels: 101
Modes: SSB/AM/FM/CW/RTTY
If you're looking for a more permanent setup, the Icom 7300 is one of the most popular options in the ham community at an extremely affordable price. Given the quality, features, and extras, the Icom 7300 continues to be the best bang for your buck, even though it's 100% SDR.
This is the go-to option for DIY shack-in-the-box builds and offers HF plus 6 meters. HAM operators love the waterfall interface that lets you visually see what's going on across the spectrum.
The visual display and touch screen allow you to zoom in and change bands with a simple touch. The visual display also makes adjusting your filters a cinch.
This radio is so easy and self-explanatory that you almost don't need a user manual. It's relatively quiet even with its large cooling fan, which is also a bonus when considering mobile operations during a grid-down scenario.
With its direct sampling system, radio frequency is automatically converted to digital data, receiving frequencies range from .030–74.800 mHz. The built-in HF antenna tuner memorizes settings based on transmission frequencies, which allows you to quickly and easily change bands.
In a grid-down scenario, you'd need your own power source to keep this 100-watt radio up and running. If you have solar power or a generator, you can use a 13.8 volt 20 amp DC power supply. Even a 75 amp/hour AGM car battery will work.
This rig lets you easily monitor what's going on for miles and miles. The Icom-7300 picks up weaker signals that most radios would miss, and the noise reduction is phenomenal.
Pros:
101 memory channels
Digital signal processing
Voice recording
15 discrete RF band-pass filters
Touch-screen waterfall interface
Comes with an HM-219 mic
Superb sound quality
Cons:
No roofing filter
Not portable
---
HAM Radio Buyer's Guide
The world of amateur radio can be mind-boggling, with its deep pool of ham speak, various modes, and different types of handheld radios.
To narrow down your selection, start by deciding what type of radio you want and how much you want to spend. While you can spend a fortune on the amateur radio hobby, you don't have to if you know exactly what you're looking for.
Types of Ham Radios
Determining your radio needs is half the battle. There's a big difference between a 5-watt radio and a 100-watt radio. Envisioning how you want to use your radio will help you identify the right radio for you.
Many amateur radio operators have a mobile radio in their vehicle and a secondary handheld for trekking. Base station operations usually require big bucks, so if you're only interested in grid-down communications, keep it simple.
Handheld Radios
Handheld hams operate from rechargeable battery packs and are intended to be carried by hand, pocket, or clip. These radios are also ideal for backpacks and tactical vests.
They are typically QPR and 5–8 watts, and because of their Simplex communication, require line of sight. In open terrain, this gives you approximately a six-mile radius from one radio to another, but most of the time, you're limited to a couple of miles due to terrain. Read more about how far ham radios reach.
However, by properly utilizing repeaters, you can boost your signal to 50+ miles.
Mobile
Mobile radios are intended to be mounted in your vehicle and average in the neighborhood of 50 watts. Mobile radios also use FM Simplex communication, but because of their increased power, can boost your range to around 50 miles, plus an additional 50 by using repeaters.
Mobile hams typically access VHF and UHF bands. Some mobile rigs offer a DC power supply, in which case they can also be used as portable radios or base station radios.
Portable Radios
Portable radios are intended to serve as base radios with temporary installation so you can relocate them from place to place. These radios are typically smaller and lighter and are ideal for smaller operating quarters.
They have limited power availability, making them best reserved for short-term, intermittent use. Otherwise, you'll need a backup power supply for foolproof communications.
Portable radios typically don't have as many functions or controls as base models and also lack the performance capabilities of high-powered table tops.
Base or Fixed
Radios designed for base or fixed stations are the most capable and powerful. They are also bigger, and their standby power requirements are higher. High-end hams can achieve 1500 watts of power.
These radios have the most flexibility and power, as well as lots of bells and whistles, added features, and the longest range.
Ham Radio Features
When deciding on the best radio, consider what features and functionalities are important to you. Some hams only offer basic 2 meters and 70 centimeters, while others offer the entire smorgasbord of frequencies.
Power
QRO vs QRP: Higher power results in better transmission but consumes more battery power. For grid-down preparedness, low-powered radios are best because they will consume the least resources.
Ideally, you want as low a current consumption as possible when receiving transmissions while also having sufficient power for sending transmissions.
Most operators recommend a minimum of 5–10 watts output for sending transmissions.
Batteries
You want a radio with an internal battery that charges quickly. You should also consider a spare battery, an automotive adapter, and a desktop charger for use during emergency communications. You want the ability to charge your internal battery quickly while simultaneously using your radio.
Bands
Dual-band lets you monitor two frequencies simultaneously on both VHF and UHF. A ham radio with "priority channel" and "channel watch" monitors activity at all times and switches to the channel that has a signal.
This is useful during disaster response and public-service activities. These are the recommended band coverages your radio should have:
Basic: 80m–20m
Intermediate: 80m–10m
Best: 160m–70cm
Dual-receive allows you to receive any combination of VHF/UHF simultaneously and transmit on either side:
VHF/VHF
UHF/UHF
UHF/VHF
VHF/UHF
Cross-band Repeat allows you to receive on one band while transmitting on another. If you have your own antenna, you essentially become your own repeater. The higher the repeater, the farther the message.
Frequencies
Because operating your ham radio requires a license, you want to make sure the one you buy has the frequencies you have access to. Preferably, you should also be able to receive 30–300 mHz because these are the frequencies most professional organizations use:
Police
Fire
Air traffic
Dispatching
FM Radio
TV
Businesses
Memory
Sufficient memory is the easiest way to organize your channels the way you want them. The more active you are on your radio, the more memory slots you want. Experienced operators recommend a minimum of 50 memory channels.
Backlight
It may seem insignificant, but emergencies don't just happen during the day. Your radio does no good if you can't see the screen. Be sure to buy a radio that has decent and adjustable backlighting.
One that toggles is best since it can save you power when you don't need it. Backlights can drain your radio pretty quickly, so an adjustable power setting is ideal.
Programming
Most hams have programming requirements and/or program software. Decide whether you want to tackle this with a computer or by hand. Programming with a computer saves you time and money but can be difficult if you're not tech-savvy.
Serious operators often prefer to program by hand, allowing them to tailor settings to their personal preferences.
Antennae
No matter the cost or quality of your radio, it's only as good as your antenna. The surrounding terrain and obstacles directly impact your radio's strength. Having your own antenna greatly enhances your ability to communicate. The higher the antenna, the better signal and range.
Most radios come with the standard "rubber ducky" removable antenna. Upgrading your antenna is highly recommended for the best communications.
Licensing
To use a ham radio, you must be licensed. It's as easy as taking an online class and operator test. Check out HamRadioPrep and use PRIMAL at checkout for 20% Off.
20% OFF Coupon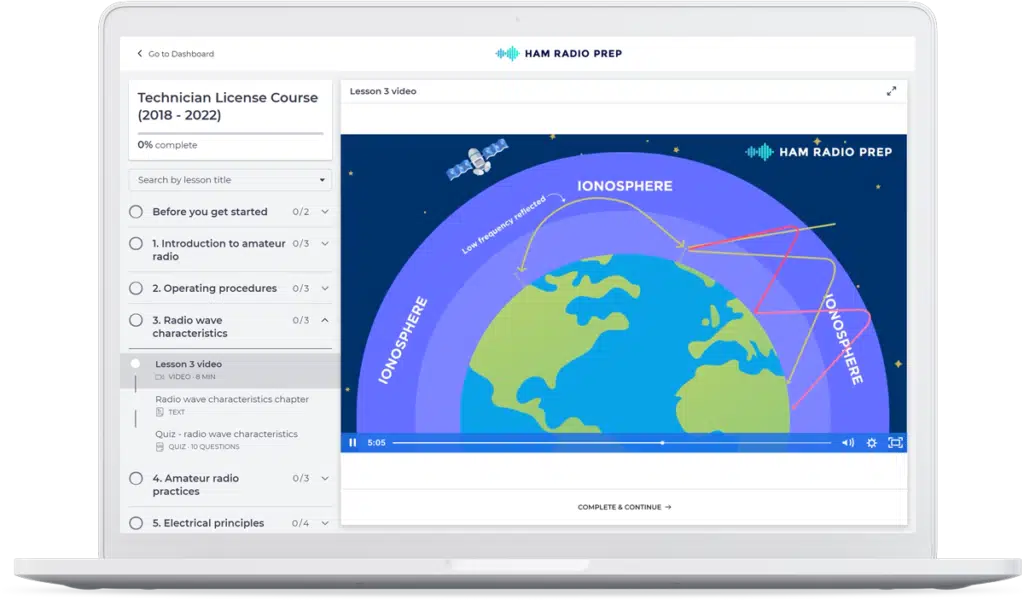 Ham Radio Online License Classes
The Ham Radio Prep program makes it fast, easy and fun to get your license in just a few hours of study time. They even offer a money-back guarantee if you don't pass your exam on your first try.
Use code PRIMAL for 20% OFF!
Final Thoughts
Remember, for a survival radio, you want a low-energy device so you're not burning through your resources.
That's why I recommend the Xiegu G90. It will do everything you need it to but still conserve power.
If you're short on funds, however, the BaoFeng UV-5R will get the job done.