An emergency radio is vital to stay updated when disaster strikes. As disasters often lead to power outages, your radio needs to have multiple charging options.
A hand crank is not the most efficient way of charging a radio, but it is the most reliable. You don't need to worry about your power pack being charged or whether the sun is out.
This article reviews the best hand-crank radios and tells you what features to look for when shopping for an emergency radio.
Our Top Pick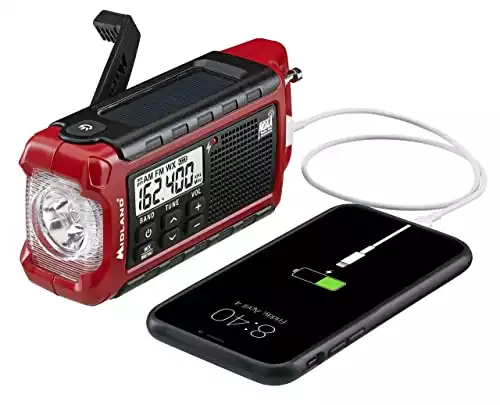 Midland - ER210 Emergency Compact Radio
With excellent performance, NOAA alerts, and a bright flashlight, this radio is durable and small enough for your Bug Out Bag.
Premium Pick
Midland - ER310 Emergency Crank Radio
With a bigger battery and more charging options, this NOAA radio will perform in all disaster scenarios.
Top 5 Hand Crank Radios
Best Overall: Midland ER210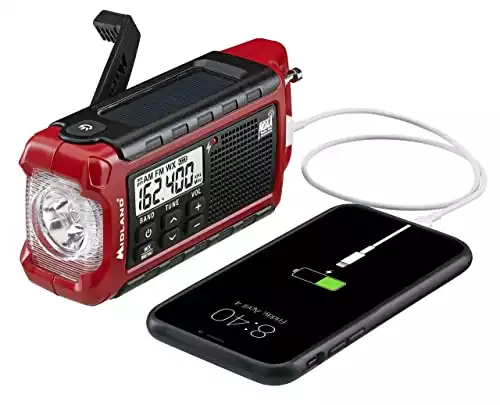 Charging options – crank, solar, USB/wall charger
Weight – 14.8 ounces
Battery – 2000 mAh
The Midland ER210 is our top overall pick for its combination of functionality, portability, affordability, and sturdy construction. It's small enough that you don't have to think twice before packing it in your Bug Out Bag and robust enough that it'll survive accidental drops and bangs.
The AM/FM radio alerts when an NOAA message comes through loud enough to wake you up. The actual radio sound quality isn't the best, but you're not buying this to listen to music – you're buying it to keep your family safe.
The battery doesn't last as long as its big brother, the Midland ER310, but the crank handle is effective at topping up the charge. One thing to note is that it comes with the battery disconnected, and Midland recommends you disconnect the battery once fully charged to avoid unnecessary drainage.
Although we've rated this primarily on its primary function as a radio, the flashlight on the Midland ER210 is super bright, making this an effective dual-purpose piece of kit.
Pros
Holds its charge
NOAA emergency alert function
Portable enough for your Bug Out Bag
Powerful flashlight
Cons
No option for AA batteries
Not programmed for S.A.M.E. codes
Charge doesn't last as long as other radios
---
Best Premium Radio: Midland ER310
Charging options – crank, solar, USB/wall charger, AA batteries
Weight – 16 ounces
Battery – 2600 mAh
The ER210s big brother has a bigger battery, more charging options, and an ultrasonic dog whistle (probably not a feature most of us would specify, but useful if you need to alert search parties). It's also bigger and heavier, which is why it didn't get our best overall badge.
The 2600 mAh battery gives up to 32 hours of radio playback when fully charged – significantly more than the ER210. The high-quality battery holds its charge better than cheaper radios, but unfortunately, you have to send it back to Midland to replace it.
The solar charger is effective for its size, and the hand crank is robust. An indicator light comes on when charging from the solar panel or hand crank, so you know the battery is charging.
Unlike the ER210, you can charge it using six AA batteries. While you're unlikely to want to carry this radio in your Bug Out Bag, it is a great option to have at home or to store at a Bug Out Location. With good reception and spare batteries in addition to other charging options, you should never be stuck in silence.
Pros
Excellent battery life
Lots of charging options
NOAA emergency alert function
Decent solar and hand crank charging
Cons
Expensive
Less portable than other options
Battery not easy to replace
---
Best On A Budget: RunningSnail 2000 mAh
Charging options – crank, solar, USB/wall charger
Weight – 10.7 ounces
Battery – 2000 mAh
RunningSnail has a range of emergency radios. This is not the cheapest model, but it packs more power than the popular 1000 mAh version.
It comes in a bit lighter than the Midland ER210 with an equivalent battery. However, the construction doesn't seem quite as sturdy, and several reviewers have had issues with the crank handle breaking – not what you want in an emergency!
Perhaps the most crucial difference is that there's no NOAA alert system, so you must be tuned into a station to get updates.
It's significantly cheaper than the Midland, but if you can stretch your budget, we'd still recommend the more reliable model.
Pros
Lightweight and portable
Low cost
Reasonable flashlight
Access to NOAA weather stations
Cons
No alert system
Less robust than other models
No option for AA batteries
---
Best Multi-Functional Radio: Kaito KA500
Charging options – crank, solar, USB/wall charger, AA batteries
Weight – 22.4 ounces
Battery – 600 mAh
This radio has shortwave reception as well as AM/FM. The 7 NOAA channels are pre-programmed, and there's the option for emergency alerts. Its main advantage over the Midland ER210 is that you can run it off AA batteries in addition to the usual charging options.
On the downside, the rechargeable battery it comes with is significantly smaller – only 600mAh capacity. This means you will want a stack of batteries to hand or be prepared to do a lot of cranking.
The KA500 is advertised as a "do it all" device with three different lights and charging ports. It also has a headphone jack – handy if you want to listen to the radio in the evening without waking the kids.
It's not as robust or lightweight as other models, so it is better suited as a radio you keep at home (or your Bug Out Location) rather than something you carry around.
Pros
Lots of charging options
NOAA emergency alert function
Headphone jack
Replaceable battery pack
Cons
Low capacity battery
Construction not particularly robust
Heavier and bulkier than other models
Expensive
---
Best for sound quality: Sangean MMR-88
Charging options – crank, solar, USB/wall charger
Weight – 13.8 ounces
Battery – 850 mAh
The Sangean MMR-88 packs a surprising punch for such a small radio. The single speaker delivers clear, crisp sound, and you have the option to pre-set 19 radio stations.
The crank handle feels reasonably sturdy and will charge the battery, albeit very slowly. There's a weather alert function, but you must ensure the radio is tuned to the relevant station in advance. When the function is activated, you can't do anything else (like listen to the radio…), which seems a significant oversight.
Unlike the Midland radios, the battery can be replaced. The battery the MMR-88 comes with is pretty poor quality, so we'd advise buying a spare, so you have the option of replacing it in an emergency.
Pros
Excellent sound quality
Replaceable battery
Headphone jack
Cons
Poor quality battery
Can't listen to the radio and get weather alerts
Expensive
---
Key Features of a Hand-Crank Radio
Here's what to look for when shopping for an emergency hand crank radio:
Solid Construction
You want a durable handle and hand crank system on your radio. After all, if the handle snaps off after a couple of uses, it will not do you much good in an emergency.
More expensive radios often have better build quality and are designed to be more durable. If you're looking at a sub-$30 import, then consider user reviews carefully before buying.
Radio Stations and Functionality
Once you've got your radio charged, the next thing to consider is functionality. You need to check that you get good reception at home, at your designated Bug Out Location, and the route you take to get there.
Emergency radios should all be able to pick up NOAA (National Oceanic and Atmospheric Administration) broadcasts. This is where you'll get public alerts and weather alerts in an emergency.
Higher-spec radios will have the capability to link to NOAA's emergency alert system. This means you don't have to have your radio permanently switched on. If the radio receives an alert, it'll switch on and broadcast the message.
A more advanced version is the SAME alert system, which allows you to program your radio to receive only relevant alerts.
Find out more about these functions in our guide to emergency radios.
How portable your radio needs to be will depend on whether you intend to keep it at home or carry it with you. Waterproofing might also be a consideration if you're likely to be taking it out in wet weather.
Multiple Charging Options
A hand crank is a great emergency backup when you have no access to power, but it's far from ideal as a regular charging option. Most hand crank radios have the option to charge from different power sources, depending on what you have available.
Ideally, these would include the following:
Mains power – if you've got it, you might as well use it!
USB charging – e.g. from a power bank or solar charger.
Solar power – the small solar cells you're likely to find on hand crank radios won't generate much power, but they're better than nothing.
AA batteries – read our guide to the best batteries for disaster preparedness.
Additional Survival Features
Many hand crank radios (especially portable budget options) have additional features such as a flashlight, compass, and USB charging capability.
While these may sound good, the individual components are often of low quality.
It's best to focus on getting the best radio quality before looking at additional features.