A hand crank phone charger is a practical solution for backup power, but be aware they take a LOT of effort. If you want constant power, your arm will get a serious workout.
See this as an emergency backup option rather than your primary power source.
We've spent a whole day researching dozens of products (many of which were not up to the task) and whittled our list down to these 6 choices.
Each one fulfills a different need, and we used the following criteria to make our shortlist:
The hand crank functionality must be robust
Extra points for multiple charging options
Extra points for weather resistance
Are added features gimmicks or useful?
Verified customer reviews from users with realistic expectations (more on this later)
Our Top Pick
FosPower NOAA Emergency Weather Radio
Budget-friendly, has several power sources, is water-resistant, and has a radio and flashlights.
The Best Hand Crank Phone Charger Reviewed
FosPower Emergency Solar Hand Crank Portable Radio – Best Overall
The FosPower Charger is water-resistant and rugged, ideal for camping and outdoor use.
It offers three modes of power: solar, hand crank, and AAA batteries. The solar panels aren't as good as other options, but considering this is a cheaper charger, it works as well as you would expect. You just have to find the right angle to catch the sun's rays.
This model requires 3-5 minutes of cranking to charge your cell phone by approximately 2%. Don't expect a full charge on your phone with the solar panel, but it'll run the radio.
Something different than other models is it offers two light sources rather than just one. It has a 4 LED reading light and a one-watt flashlight, generating plenty of light. This unit receives emergency forecasts and updates, broadcasting NOAA and AM/FM stations.
This charger isn't too big; it might not comfortably fit into a backpack, but it works for camping.
FosPower made their charger water-resistant with an IPX-3 rating. That means it withstands moderate water spray. Don't dunk it in a pond, but it won't die if a bit of rain hits it.
Pros
2000 mAh battery
Three modes of power
Two lighting options
NOAA & AM/FM radio
Water-resistant
Cons
The sound quality lacks.
Hard to use the solar panel charging
---
Zeus Dynamo Powerhouse 60 Hand-Crank Generator – Best For Power
The Zeus Dynamo is best for those who are living off the grid.
At first glance, you realize this generator differs from the others on the list. It is the size and weight of a six-pack of your favorite cold beverage. Not only that, but it includes a mounting kit for walls or surfaces to make hand-cranking easier.
It uses ball bearings and gears to produce power with less cranking, which is good for you. Aircraft-grade aluminum houses everything, so it's durable and holds up to rigorous use.
It charges anything with a USB port, such as cell phones, headlamps, tablets, and more. It holds up to 60 watts of power at a time and has two USB ports.
On average, it will increase your cell phone battery by 1% for each minute of cranking.
The Zeus Dynamo does have some negatives. The cost is high, it's large and heavy, and it's not water-resistant.
However, this is a serious piece of kit with a high-quality cranking mechanism; it produces far more power than any other product on our list.
Pros
Holds up to 60 watts of power
Mounting brackets included
Perfect for off-grid living
2 USB ports
Cons
Expensive
Large
Not ideal for occasional use
---
American Red Cross Clipray Crank-Powered Flashlight & Phone Charger – Budget Pick
The American Red Cross Clipray is a budget-friendly option for emergency use.
This hand crank charger is ideal for short-term situations or backpacking, but it's far from the most powerful option. It takes one minute of cranking to turn the flashlight on for ten minutes and ten minutes or longer for any decent charge for your smartphone.
The Clipray only provides enough power to make a quick emergency call; don't expect to play games or browse the web!
Aside from that, the Clipray includes a flashlight with three LED bulbs that generates quite a bit of light when charged. It also has a robust carabiner, allowing you to attach it to your backpack or other gear.
The small size is an advantage for bugging out, whether you want to clip it or slip it in a pocket.
The biggest downfall is that you must continuously crank the handle while your phone is connected to generate a charge. That's because the Clipray is a "direct-charge device." with no internal storage battery.
We like this device for its simplicity but be aware of its limitations.
Pros
Bright light with 3 LED bulbs
Strong carabiner clip
Budget-friendly
Lightweight, perfect for backpacking
Cons
Needs cranked a lot
Direct-charge device
No battery or charging indicator
Only 500 mAh
---
RunningSnail Emergency Hand Crank Radio & Power Bank – Good All Rounder
RunningSnail is perfect for emergencies at home, like natural disasters, rather than backpacking.
There is a lot to love about the RunningSnail, the most important being that there are four ways to charge it.
Solar panels
hand crank
USB cable
Three AAA batteries.
Not only does this charger offer a 4000 mAh lithium battery, but it also has an AM/FM and NOAA weather radio that works for up to ten hours on a full charge. There is also a flashlight included on the side of the radio.
It depends on many variables, but we estimate it will take about 10 minutes of cranking to get a 2% charge on your phone, enough to make an emergency call and not much else.
This charger works with anything that needs a USB cable. However, it's not ideal for backpacking due to its size. It won't fit easily into your backpack, nor is it weatherproof, so I would be hesitant to use it in any bugout situation.
This one is for you if you want an emergency radio and phone charger for home use that won't break the bank.
Pros
4000 mAh
Four charging methods
AM/FM & NOAA radio
Flashlight included
Charges anything with a USB port
Cons
Not a LED flashlight
Too big for backpacking
Not water resistant
---
Emergency Hand Crack & Solar-Powered Radio – Multiple Power Sources
An excellent option for frequent at-home use or while on the go.
This product stands out because it offers five power sources, the most on our list. The charging options include:
Hand crank
Solar panel
Rechargeable battery bank
USB cord (with a wall adapter or car charger)
AAA batteries
The lithium-ion battery keeps a charge for hours, so you only need to hand crank when required. It takes around 20 minutes to increase your charge by 10% on your cell phone. Zurio recommends using short spurts of cranking for 3-5 minutes; your arm will get tired!
They included features like NOAA weather alerts, an LED flashlight, AM/FM radio, AUX music input, and a large LCD screen. It's possible to listen to the radio while charging your phone and using the flashlight to read a book.
Of course, the added features increase the price, but it doesn't break the bank.
So what's bad about it?
The sound quality of the radio is lacking, especially considering the price. The antenna is fragile and can break if knocked over. Also, it's not water-resistant, so avoid bringing it outside where it might encounter rain.
Pros
4000 mAh
Five power sources
LED flashlight
NOAA & AM/FM radio
Great price tag
Cons
LED isn't too bright
The sound quality isn't great
Antennas break easily
---
Heavy Duty Hand Crank Generator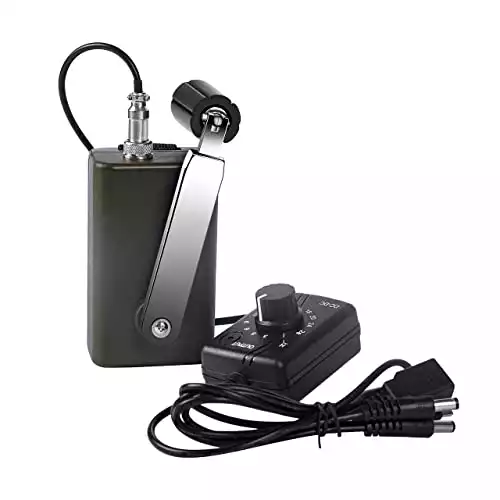 This military-style crank generator is perfect for survival scenarios or serious hikers.
This is a no-fuss, no-muss style generator. This isn't the one for you if you want something with all kinds of fancy features.
Instead, you have a durable, well-designed crank charger that is shock-resistant, waterproof, shockproof, salt spray resistant, and generates power in low temperatures.
Supervision uses a high-tech magnetic conversion inside a high-strength aluminum composite alloy case. That means you can drop this generator in a puddle; it'll survive. Drop it down a hill? No big deal.
It's super easy to charge your cell phone with this, but it's best to charge a separate battery pack and then charge your phone from the battery pack. This unit often causes the "device not detected" on smartphones. It charges rapidly; 5-10 minutes of hand-cranking is sufficient for a full charge, and the handle cranks quickly.
Due to a 30-watt battery, this charges small power communication stations, walkie-talkies, laptops, satellite phones, and other large devices.
Pros
Waterproof and shockproof
30-watt battery for larger gadgets
Highly durable
Military-style
It fits in a backpack
Cons
Takes time to figure out
Awkward design
Expensive
---
How Do Cell Phone Crank Chargers Work?
Electricity is generated through electromagnetic induction.
Without getting too geeky about it, when you crank the handle, a magnet spins within a coil of wire, which generates electricity. Most models contain an internal battery that stores the electrical charge, meaning you don't have to crank the charger constantly.
What to Consider When Buying a Hand Crank Phone Charger
Here are a few things to consider when making a purchase.
Conversion Efficiency
The conversion efficiency refers to the hand crank's efficiency and how much power you generate for each minute of cranking. Some are more efficient than others, so you have to spend less time charging your phones.
Ideally, you want a high-efficiency conversion. That saves you a lot of time, but this tends to come with a higher price tag. For example, the dedicated chargers mentioned in our list will have a far greater conversion efficiency than the cheaper multi-use chargers.
Battery Capacity
When you look at hand-crank chargers, look at the battery capacity, noted with "mAh," which stands for milli-Ampere-hours. This measures the battery's energy storage capacity.
Chargers with a higher mAh rating mean the device will last longer on a single charge.
The Realistic Uses of Your Charger
Let's be honest; hand crank phone chargers take work just to put a small dent on your cell's battery. If you expect to keep your phone fully charged with one of these, be prepared to crank often or spend extra money for one with a larger battery capacity.
You must have realistic expectations when making a purchase.
In general, most companies claim that these chargers require cranking for 10 minutes to charge your phone enough for emergency calls. Others claim that they only need five minutes of cranking but remember, it also varies based on your phone and its battery.
No matter what charger you pick, you must put physical work into charging your phone.
These things will work in a pinch but don't expect miracles!
Also see how to charge a phone without a charger
Extra Features
Many of these chargers include extra features; radios, flashlights, reading lights, weather, and emergency lights, and fancy LED screens are a few of the included extras.
Try and figure out what features you need and buy a tool that does these things well rather than several things badly.
Related Reading
Conclusion
Having a hand-crank phone charger is a smart idea whether you want to be prepared for a major storm or a serious crisis. The FosPower is everything you need, but any of these six choices will get the job done.