Most emergency food is far from organic. The freeze-dried meals you find in kits are often made with pesticide-sprayed and GMO ingredients, artificial fillers, and preservatives.
Most emergency food is unhealthy too and contains copious amounts of sodium and few whole foods. To keep your family healthy through a disaster, you might want to choose organic emergency food.
Below I'll go over organic emergency food options, including emergency food kits, canned organic food, and DIY emergency meals with organic ingredients.
Option 1: Organic Emergency Food Kits
The easiest way to get ready for disasters (at least as far as food goes) is to buy emergency food kits. While they tend to be pricey, you won't have to worry about packaging any foods yourself.
Most are packaged in Mylar bags and then put in a bucket to disaster-proof the food. Expect a shelf life of around 10 to 25+ years.
To prepare the foods, just boil the meal in water for a few minutes (you'll need an emergency stove). Some types of emergency foods (ones without pasta) can even be made with the cold soaking method, which involves soaking the dry ingredients in cold water to rehydrate.
Unfortunately, there aren't too many brands that actually make organic emergency food kits. Below are the options that I know about. If you know of any more organic emergency food kits, let us know in the comments!
NuManna

NuManna is a brand that makes all its food in the USA with non-GMO ingredients and no preservatives. Meals are packaged to have a very long shelf life.
Not all of their emergency food is organic, but they do have an Organic Family Pack bucket with 162 servings of organic foods and meals.
I love that NuManna organic meals are low-sodium yet still pretty tasty.
On the downside, though, the meals only have about 200-350 calories per serving. This, unfortunately, is normal: most brands only have around 250 calories per serving.
However, the entire NuManna Organic bucket only contains 30,300 calories. This isn't a lot of food for the price. It's also worth noting that there are few veggies in the meals; they are mostly loaded with carbs and sauces.
The Organic Family Meal Kit includes (all organic):
Powdered Milk (40 Servings)
Cheddar Broccoli Soup (10 Servings)
Classic Chili (10 Servings)
Brown Sugar Oatmeal (10 servings per bag, 2 bags total)
Pasta Primavera (10 Servings)
Italian Pasta with Marinara (10 Servings)
Black Chia Seeds (16 Servings)
Sweet Habanero Chili (10 Servings)
Mac 'n' Cheese (10 Servings)
Pancake Mix (10 Servings)
Quinoa (16 Servings)
---
ReadyWise
ReadyWise is an emergency food brand that is popular because of its good variety of meals and kits. They currently have one organic emergency food bucket with 90 servings.
The meals are actually flavorful, taste good, and have some freeze-dried veggies in them. It more than the glorified pasta you get with most survival meals.
As expected with emergency food, there are only about 170 to 350 calories per serving. The bucket contains just 19,500 calories, so it isn't that much food. The sodium content is pretty high too.
I'm also disappointed that the "oatmeal" is actually just oats; there's no fruit, milk, or any flavor added
The kit contains:
5 pouches of Pineapple Chipotle Chili (20 Servings Total)
5 pouches of Pasta Primavera (20 Servings Total)
5 pouches of White Cheddar Broccoli Soup (20 Servings Total)
3 pouches of Oatmeal (30 Servings Total)
---
Patagonia Provisions
Patagonia Provisions is a brand that makes freeze-dried food for backpacking. Their meals can work just as well for emergency preparedness.
While pricier than most survival food, it's worth it if you want food that is organic, healthy, packed with veggies, and a good amount of protein.
They also use a lot of seasonings in their meals (not just tons of salt like some brands), so the meals don't taste boring. The texture is great, and the sodium content is relatively low.
I just wish Patagonia offered a bulk meal bucket so you could get a better deal on their organic foods.
Their organic meals include:
Green lentil soup
Spicy red bean chili
Black bean soup
Kale and Kamut
Mushroom and Kamut
Breakfast grains
Option 2: Organic Canned Goods
There are plenty of options when it comes to organic canned goods. I particularly recommend canned goods for your two-week emergency supply (short-term emergencies). They don't require any cooking, so you won't have to get out your emergency stove to cook anything. Nor will you have to worry about getting water to cook canned foods.
And, contrary to common belief, canned food doesn't really go bad.
For long-term emergencies, though, organic canned foods aren't a great option. Because they contain water, cans take up a lot of space compared to dried goods. Even organic canned goods are usually loaded with sodium, which isn't great for health over the long-term.
You could can your own foods, but those glass canning jars can break during natural disasters. Even with DIY canning, it's still hard to make a complete meal out of just canned goods, and canned veggies tend to be mushy and gross.
Option 3: DIY Organic Emergency Meals
It takes a lot of planning and some knowledge of packaging methods, but you can make your own emergency food kits using bulk organic ingredients.
This ends up being cheaper and much healthier than buying emergency food pre-packaged.
It also might be your only option if you want organic and gluten-free emergency food (see gluten-free emergency food here).
There are three steps to making your own organic emergency meals.
Step 1: Choose Your Foods
For this to work, you need to make sure you have all of the main food groups covered. These include:
Grains and Other Carbohydrates: Such as organic rice, oats, wheat, pasta, and instant potato flakes
Proteins: Such as organic dry beans, organic TVP (Textured Vegetable protein), and nuts. I currently don't know of any organic freeze-dried meat.
Dairy: Such as organic milk powder and organic cheese powder
Fruits and veggies: Such as freeze-dried organic fruits and veggies. You can also dehydrate your own or invest in a freeze dryer for home.
Seasonings: Don't forget these or your food will get boring quickly!
Fats: Such as organic olive oil and other oils
Step 2: Calculate Amounts
The tricky part is figuring out how much of each food you need. It takes quite a bit of math to make sure you are getting the right number of calories per day for each food group (you don't want to end up with 30lbs of pasta but nothing to put on it!).
If you need help with this, I recommend checking out our Emergency Food Planner Workbook. It includes a spreadsheet with a built-in calculator so you can get exactly the right amount of food.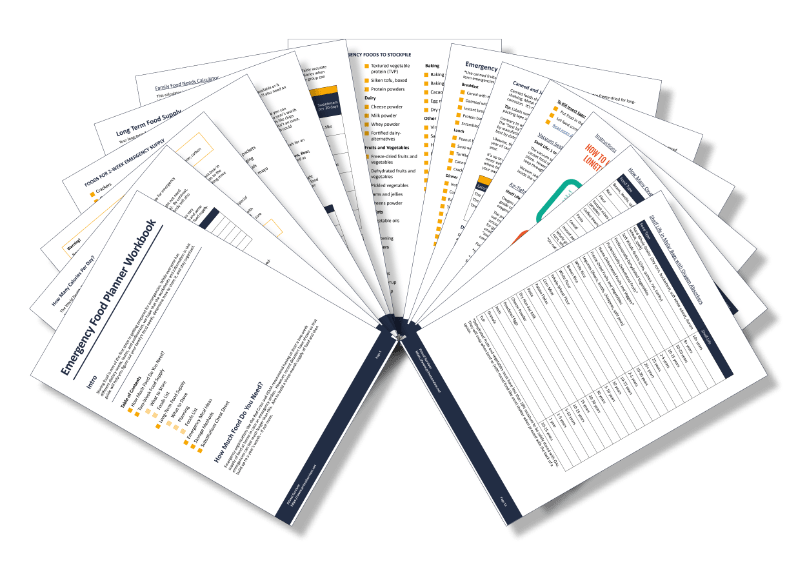 Learn more about the Emergency Food Binder here
Step 3: Package the Foods
After you know how much of each food you need, you can start buying them. If the item is already in a Mylar bag with oxygen removed (such as some powdered milk), you won't have to repackage it. Almost all other items will need to be repackaged.
The best way to store food long-term is in Mylar bags with oxygen absorbers. For detailed instructions, read:
We also have a series on storing powdered milk, cooking oil, sugar, baking soda, and other food items. See the entire survival food series here.
Are there any good brands of organic emergency food that I missed? Let us know in the comments.