If you're sick of chopping firewood or worried about wildfires, a solar oven provides a safe and sustainable alternative to the traditional campfire.
Some can even harness ultraviolet light and convert that into heat, so you can enjoy a hot dinner on a cloudy day, just as you would at home.
The best solar cookers are lightweight and portable, durable enough to withstand harsh conditions.
They can also reach temperatures of up to 550°F, so you can roast a turkey on them, cook stews, boil vegetables, and prepare hot drinks.
Best Overall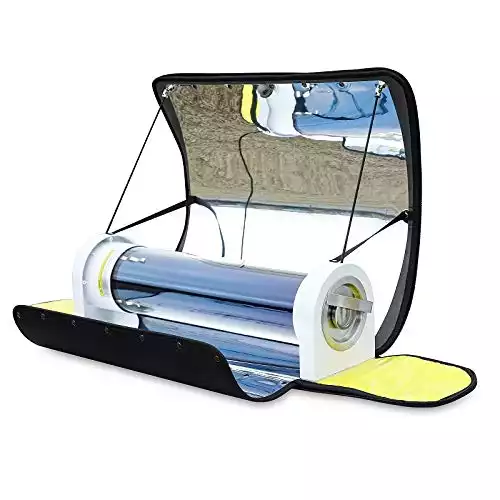 MrMapMax Solar Oven
This lightweight, compact solar oven has a large capacity and works on cloudy days by utilizing ultraviolet light.
Best Budget
All Season Solar Cooker
Simple, affordable, and lightweight, this solar cooker is rugged, portable, and highly effective in full sun.
Best Solar Ovens Reviewed
#1 MrMapMax Solar Oven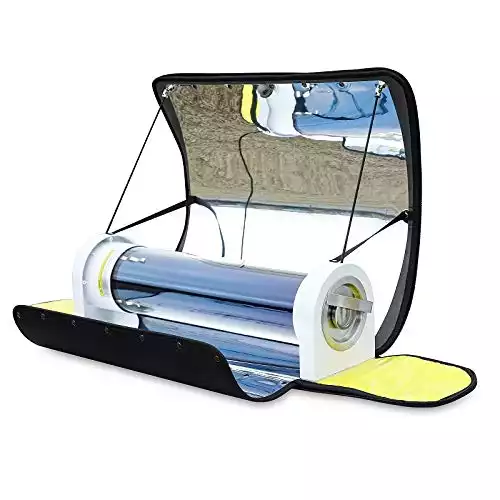 This powerful solar oven can reach a maximum temperature of 550°F, making it suitable for steaming, boiling, baking, and even roasting. It can cook a meal in just 20 minutes in full sunlight, regardless of the outside temperature, so it is suitable for use in extreme conditions.
This type of tubular solar oven works a little like a thermos. The parabolic reflectors on either side focus sunlight onto the vacuum tube in the center. The tube acts as an insulator, converting up to 80% of the sun's rays into heat.
Some solar ovens have adjustable reflectors so you can focus the sun more accurately. This is one feature the MrMapMax lacks, but it makes up for it in other ways.
Even on an overcast or cloudy day, the MrMapMax solar oven will keep cooking by capturing heat from ultraviolet rays.
It has a capacity of 4.5l and will easily feed 2 to 3 adults.
This solar cooker weighs just 11.2 lb and takes seconds to set up. It has a carry case with zippers that reveal the parabolic reflectors that capture the sun. Food inserted into the inner tube cooks evenly, retaining moisture and tenderness.
Easy to set up, clean, and transport, this solar oven is also one of the most affordable on the market.
Pros:
Works on cloudy days
Good capacity
Maximum temperature 550°F
Cons:
Reflectors aren't adjustable
---
#2 All-Season Solar Cooker
The All Season Solar Cooker is similar to the first solar oven ever invented and uses the same boxlike structure to achieve its goals. Weighing just 4lb, it arrives as a flatpack that you can quickly assemble to create a simple yet effective solar cooker.
The cooker comprises eight adjustable reflector panels, a base, and a "Sunsight" that helps you get better solar focus and increase the cooker's efficiency.
Adjust the reflector panels, and you can capture solar power throughout the day.
Many solar ovens work only when the sun is high in the sky. The All Season Solar Cooker allows you to adjust the angle of the reflector panels and capture the sun's power from the moment it rises until the last rays disappear over the horizon.
While it won't reach the high temperatures that the tubular solar ovens achieve, it will get high enough that you can roast a chicken or even bake a loaf of bread.
The 17" x 12" cooking floor gives you enough room for a turkey roaster but will heat a cup of hot water just as effectively. This versatility makes it ideal for larger groups, as well as individuals.
Easily transportable, the All Season Solar Cooker folds into a neat package measuring just 0.5"x24"x48". Made of weatherproof polypropylene (PP) flute board, this solar oven is extremely rugged and won't tear, break, or become waterlogged. It's also one of the cheapest models currently available.
Pros:
Affordable
Lightweight and portable
Adjustable reflectors capture sun all-day
Cons:
Maximum temperature cooler than other models
---
#3 GoSun Sport Pro
The GoSun Sport Pro is a tubular solar oven similar to the MrMapMax. It weighs a few pounds more and costs a few dollars extra, but the basic premise is the same.
Like the MrMapMax, the GoSun Sport Pro utilizes ultraviolet light and direct sunlight, so it will continue working even when the clouds roll in.
It reaches a maximum temperature of around 550°F and can be used to bake, boil, or steam your favorite meals.
The exterior of the Sport Pro remains cool to the touch, making it safe to use around children and animals. It also comes with a robust bag that makes it easy and comfortable to transport. It does weigh a few pounds more than the MrMapMax, but it's still compact enough for camping and survival.
The GoSun Sport Pro is one of the most popular models, but it carries a higher than average price tag, making it less cost-effective than our top two choices.
Pros:
Works on cloudy days
Portable
Cons:
Comparatively pricey
Heavier than other models
---
#5 LiFuJunDong 1800W Concentrating Solar Cooker
As long as the sun's visible, this parabolic solar cooker can reach scalding temperatures faster than a charcoal grill.
By reflecting and concentrating the sun's rays into the center of the cooker, it can achieve temperatures comparable to those of your kitchen oven.
One of the downsides of this solar cooker is that it gets so hot. The intensity of the heat at the cooker's focal point is so high it could present a fire hazard if positioned incorrectly.
According to the manufacturers, this concentrating solar cooker can reach temperatures of up to 1000°C, or 1832°F, which is as hot as lava!
Such intense heat is difficult to manage effectively, and you could burn part of your meal while leaving another section raw.
One of the benefits is that you can use this solar cooker as a grill, which you can't do with any of the other options listed here.
That versatility comes at a price, but it's not a financial one. This cooker is surprisingly affordable, but at 37 lb, it's not something you'll be lugging off into the wilderness with you.
Pros:
Affordable
Extremely high temperatures
Cons:
Too heavy for camping or survival
Potential fire hazard
---
Types of Solar Ovens
There are four basic types of solar ovens, all of which have been featured in our reviews.
#1 Box Solar Cooker
The box solar cooker reflects sunlight into a solar box through a glass or plastic top. The All American Sun Oven is a classic example of this type of solar cooker.
#2 Parabolic Solar Ovens
Parabolic solar ovens look a lot like satellite dishes. The shiny material of the satellite dish reflects and concentrates the sun's power to a focal point at the center of the dish.
This type of solar oven produces the highest temperatures, making it the only type capable of frying and grilling food. The LiFuJunDong solar cooker uses this design.
#3 Tube Solar Cookers
Tubular solar cookers like the MrMapMax and GoSun Sport Pro are relatively new but becoming increasingly popular due to their ability to work effectively on overcast days. Reflector panels focus the sun's rays onto a tube in the center, which then converts around 80% of the sun's energy into heat.
#4 Panel Cookers
Like the box solar cooker, a panel cooker looks like a three-sided box. Each side of the box is made of reflector panels that direct the sun's energy into the center of the box, creating a heat trap. The All Season Solar Cooker is a type of panel cooker.
7 Things to Look For When Buying a Solar Oven
#1 Capacity
Before you spend your hard-earned cash on a solar oven, make sure it's big enough to cook for the entire family in one go.
Tubular solar ovens can prepare food for a family of four at a stretch, but any more than that, and you'll have to double your cooking time.
The All Season Solar Cooker is far more versatile and can be used to cook for an individual or a large group of friends.
#2 Portability
The best solar oven is one you can take into any situation and use effectively. Some premium solar cookers are too big and bulky to be used in a survival situation. In contrast, others are so complicated to assemble that it could be dark before you're ready to do any cooking.
#3 Efficiency
An efficient solar oven heats up quickly and works effectively in cold environments. Parabolic solar ovens are the most efficient, followed by tubular models.
Box and panel solar cookers take longer to heat up and struggle to maintain their maximum temperature in cold climates.
#4 Durability
Few people rely on a solar oven to cook at home, although it is an option if you live in one of the sunnier states, like Arizona or New Mexico. Most of you will be using your solar ovens for camping and survival, so durability is critical.
The best solar ovens are weatherproof, sturdy, and capable of withstanding the rough and tumble of traveling over rugged terrain. With its handy carrying case and robust design, the MrMapMax is a good choice, although the inner tube still needs protection.
The All Season Solar Cooker is arguably the best choice as it's virtually unbreakable and completely weatherproof.
#5 Cooking Conditions
Not every camping trip or survival experience will be blessed with sunny weather, so the ability to cook even when it's cloudy could make all the difference. Sure, you could survive on MREs and crackers, but a home-cooked meal is far more nutritious and satisfying.
Tubular solar cookers use ultraviolet light and direct sunlight to generate heat. That means you can continue cooking even when the clouds roll in.
Other solar ovens operate only when the sun's shining, although the All Season Solar Cooker can capture a lot more of that sunlight than other models.
#6 Type of Cooking
Most solar ovens get hot enough for you to cook almost everything you usually prepare at home, from stove-top meals like soups and pasta to oven-baked feasts like roast dinners. For the most part, solar ovens can steam, boil, bake, and roast.
#7 Price
Solar ovens vary widely in price, with the cheapest starting at around $100 and the most expensive heading into the thousands. The All Season Solar Cooker offers the best value for money, with the MrMapMax coming a close second. Both are durable, portable, efficient, and affordable.
Conclusion
The MrMapMax is the best solar oven, combining efficiency with durability and affordability, but it can only cater to around three people.
The All Season Solar Cooker is more versatile in capacity and offers excellent value for money. Weighing just 4lb, it's also light enough to strap onto your bug-out bag without adding unnecessary bulk to your load.