When getting started with emergency preparedness, a lot of people make the mistake of rushing out and buying a lot of non-perishable foods, bottled water, and random gear. But this isn't a good way to prepare.
You've got to have a plan!
Without an emergency preparedness plan, you will end up wasting a lot of money on supplies which you don't really need or won't be able to properly use.
Yes, it can seem overwhelming to prepare for an unknown disaster. You don't know what is going to hit (will it be an earthquake, hurricane, solar flare…?), so how do you go about preparing for it???
Emergency Preparedness Checklist
This emergency preparedness checklist will help you assess your current situation. After taking the assessment, you will be able to see where your strengths and weaknesses are, then make a plan for improving the weak area.
*Note that this is a home preparedness assessment. You'll also want to assess the preparedness level of your workplace, school, vehicle, and eventually your entire community!
FREE PREPAREDNESS CHECKLIST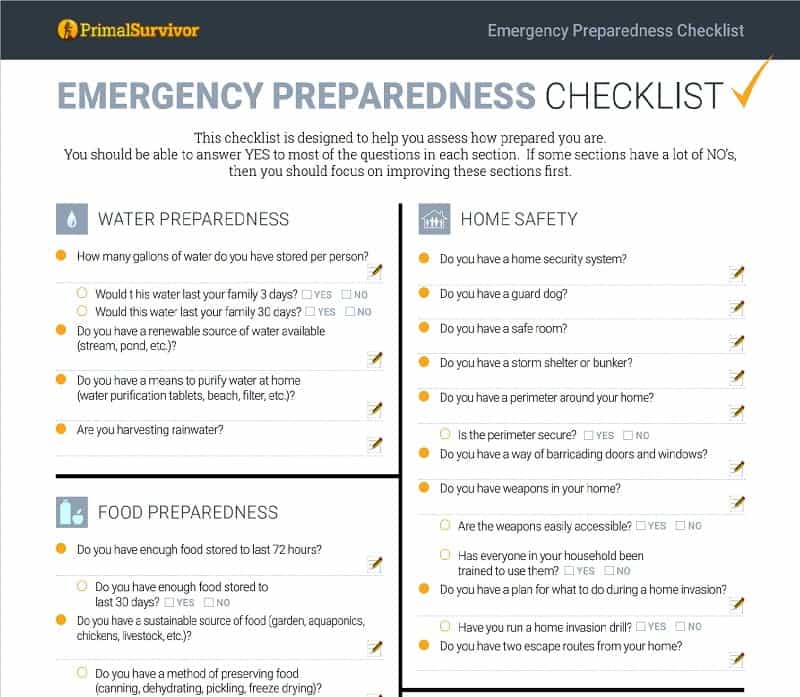 Part 1: Water Preparedness
Part 2: Food Preparedness
Part 3: Home Safety
Part 4: Light, Heat, and Cooking
Part 5: Emergency Supplies
Part 6: First Aid & Hygiene
Part 7: Evacuation
Part 8: Mental Preparedness
Part 9: Group Dynamics
Defining Your Strengths & Weaknesses
Did you finish with the Disaster Preparedness Checklist? You will need these results to define your preparedness Strengths and Weaknesses.
Which areas of the preparedness checklist did you do really well on? These are your strengths.
Which areas of the checklist did you have a lot of NO answers? These are your weaknesses.
For example, you might find that your pantry is very well stocked with nonperishables so you don't have to focus too much on that. Or you might realize that you have no alternative method of heating or cooking, thus leaving you very vulnerable to blackouts.
Start Strengthening Your Weak Areas
Choose one of your weaknesses and fix one or more issues in it.
You should now be able to answer "Yes" to those questions in the checklist.
Then move on to another weak area.
And so on.
Not sure where to begin?
Deciding what to work on first for disaster preparedness can be tricky. Again, don't rush out and buy a bunch of supplies. You need a plan for how you go about prepping for disaster and emergency.
Here is how I recommend getting started:
Fix the easiest and cheapest weaknesses first.
OR
Fix the weaknesses which have the biggest impact.
For example, it takes a lot of research and money to improve home security. But it doesn't take much effort or expense to fill up empty milk jugs with water for storage. In just a few hours, you can have an entire 72-hour supply of emergency water.
Or you might decide to focus on your Bug Out Bag first. Packing a Bug Out Bag requires careful planning, and you'll want to spend some money on quality supplies. However, a Bug Out Bag is one of the most important things you can do for disaster preparedness so spending the time and money on it will have a big impact on your level of preparedness.
If you need some more guidance, read this Ultimate Disaster Preparedness Guide: 6 Step Plan for Readiness
How well did you do on the checklist? Is it mostly YES or NO answers? What are your strong and weak areas?
FREE PREPAREDNESS CHECKLIST