When it comes to survival foods, finding something that offers dense calories, vitamins, and salt at a low cost can be challenging.
Before granola bars, massive amounts of preservatives, and fancy packaging, there was hardtack. Read on to find out how to make hardtack so you have some long-lasting survival food no matter how tight your budget may be.
What is hardtack?
Hardtack is a hard biscuit made of flour, water, and salt. This is the traditional recipe, but you can add some herbs and spices to add more flavor if desired.
Note: Adding ingredients beyond the basic recipe can decrease the shelf life of your end product. (More on this later).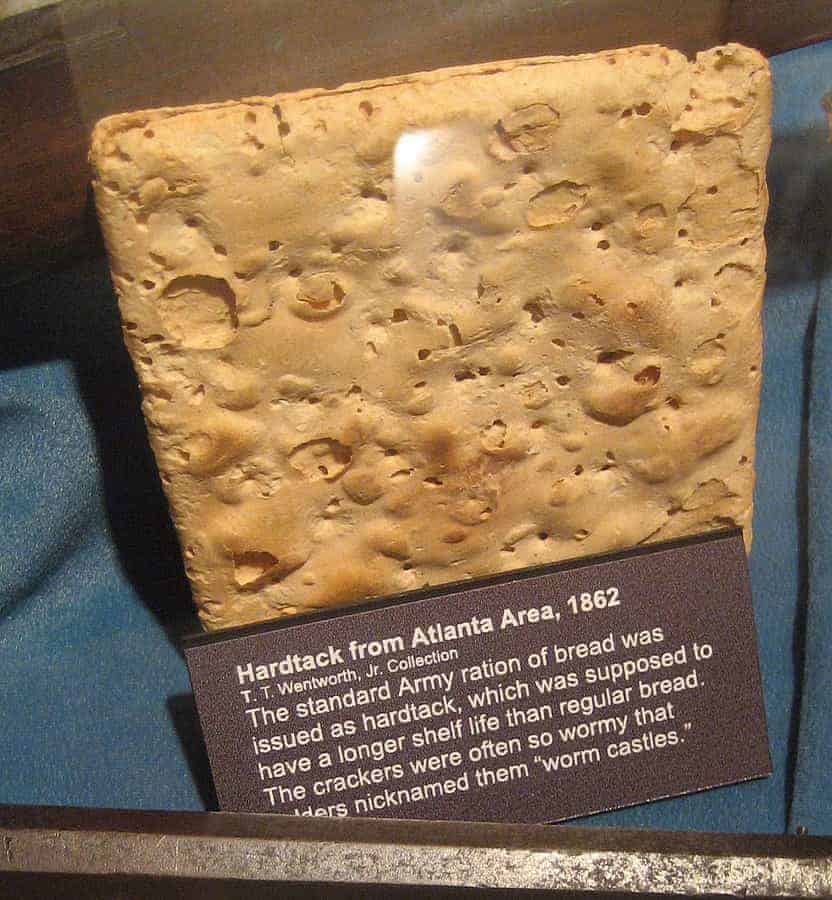 Traditional hardtack keeps indefinitely if kept dry.
The oldest piece of hardtack in existence is in a museum in Florida and was baked in 1851! There are other specimens from the Civil War.
They are still edible to this day!
What other food could you say that about?
Hardtack is cooked until very dry and hard. Moisture is nonexistent in properly made hardtack.
History of Hardtack
Unleavened breads have been survival food for millennia. Archaeologists have found 6,000-year-old pieces of unleavened bread.
Yeast was not used for bread until the age of the Egyptians, so if you were eating grains, they were either cooked in dishes or made into unleavened cakes. This was an excellent way to put back for hard times such as crop failures.
Unleavened breads were brought over the ocean by intrepid explorers and used on expeditions.
In some ways, the settlement of Europeans in the future United States was primarily fueled by hardtack, which made it possible to travel and explore with some level of food security.
During the Civil War, hardtack was a standard ration for soldiers. Many songs during the war contained lyrics about this staple food that kept troops fed and moving under some of the harshest circumstances.
Supplies Needed
The beauty of hardtack is that you need very little to make it, and you can make as big a batch as your oven will hold.
Here are the supplies needed besides ingredients.
1. Mixing bowl – metal, glass, ceramic, anything will do.
2. Dough Docker or something to put holes in your dough. If you don't have a dough docker and plan on making lots of bread, I recommend getting one. They last forever.
3. Cookie sheet or wire pizza sheet. I like mesh pizza sheets because they provide good airflow to dry the hardtack quicker and more evenly. I always use them for pizza, crackers, and other baked goods that I want to get nice and crispy.
Buy Supplies Online
Recipes
Print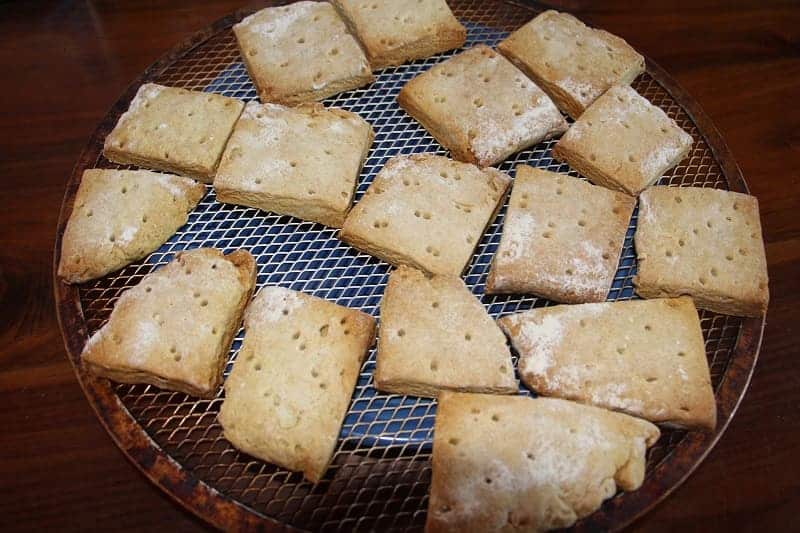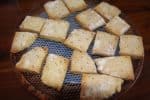 Modern Hardtack Recipe
---
Author:

Total Time:

1 hour

Yield:

3410

calories

1

x
Description
Is this the ultimate survival food? Before granola bars, massive amounts of preservatives, and fancy packaging, there was hardtack.
---
3 cups

White Flour

1.5 cups

Sweet Sorghum Flour

9

Rounded Tbsp Nutritional Yeast

½ Cup

Refined Coconut Oil

3 Tbsp

Iodized Salt

1.5 cups

of water
---
Instructions
Preheat your oven to 375°F
Add dry ingredients to your bowl.
The amount of water you need can vary a bit. I add a ½ cup at a time and work it in.
Knead dough, The end consistency you are going for is just pliable enough to be smooth and worked with a rolling pin.
Roll out till approx 1 inch thick
Cut into square biscuit shapes
Dock or poke holes in the dough.
Bake in the oven for 30 to 40 mins
Allow to cool completely
Notes
Traditional Recipe Used By The Pioneers (instructions are identical to modern recipe)
4.5 cups White Flour
3 Tbsp Salt
1.5 cups of water
Prep Time:

20 minutes

Cook Time:

35 minutes

Category:

Snack

Method:

Baked

Cuisine:

American
Nutrition
Calories:

3410

Fat:

127g

Protein:

64g
Keywords: Hardtack recipe, how to make hardtack
The Method
I will now show you how to make hardtack; the following method is the same regardless of your recipe.​
1. Add dry ingredients to your bowl.
2. The amount of water you need can vary a bit. I add a ½ cup at a time and work it in.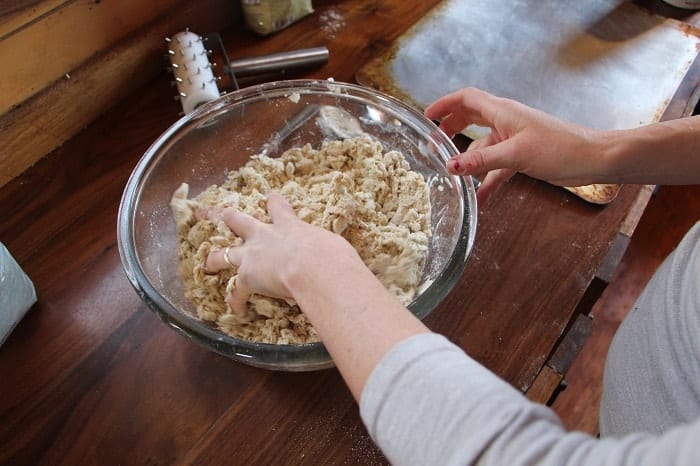 3. The end consistency you are going for is pliable enough to be smooth and worked with a rolling pin. The goal at the end of baking time is to have zero moisture. Knead as much as needed.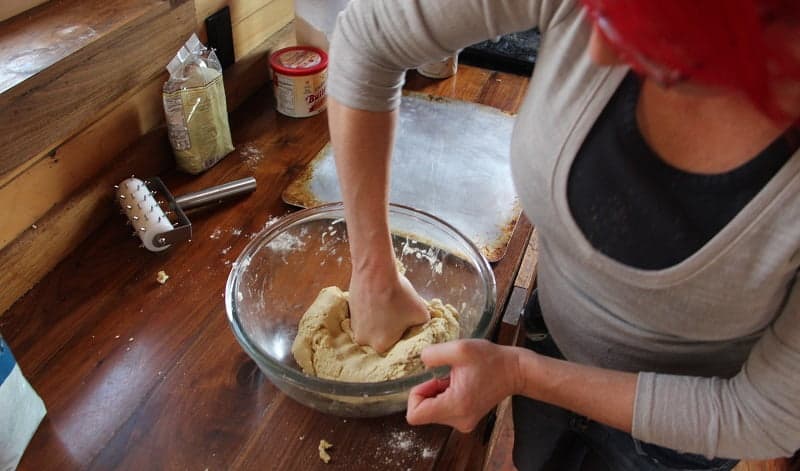 4. Docking is important because the holes allow steam to escape and your finished product to dry out completely. You can just poke holes in the dough if you don't have a bread docker.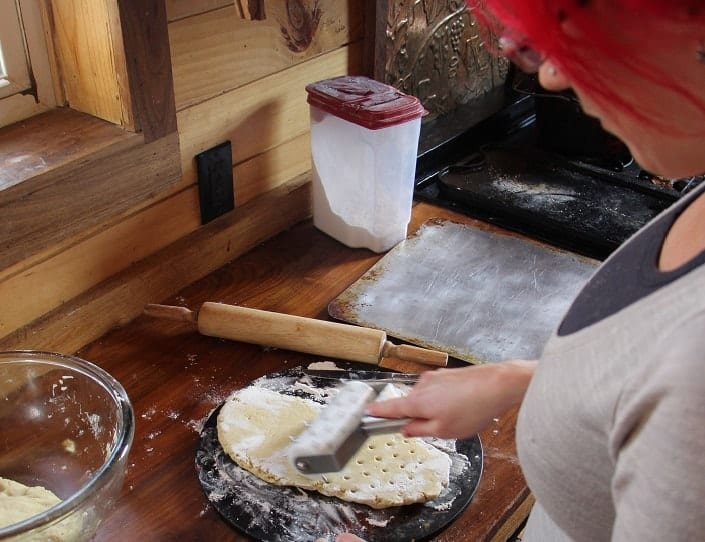 5. The size of the squares of hardtack you make is entirely up to you.
Smaller squares will dry out faster. You can try to cut your squares out to be close in size. It does not have to be exact, and there is no set shape they have to be.
A lot of people choose square or round, like a biscuit. I wanted to experiment and see how much difference it made, so I varied the size a little.
I found that varying the sizes and even the shape slightly made no significant difference in getting them rock solid.
6. Bake in a preheated oven at 375°F for between 30 and 40 minutes.
7. The hardtack should be slightly golden brown when done.
8. Leave crackers to cool and allow any residual moisture to evaporate.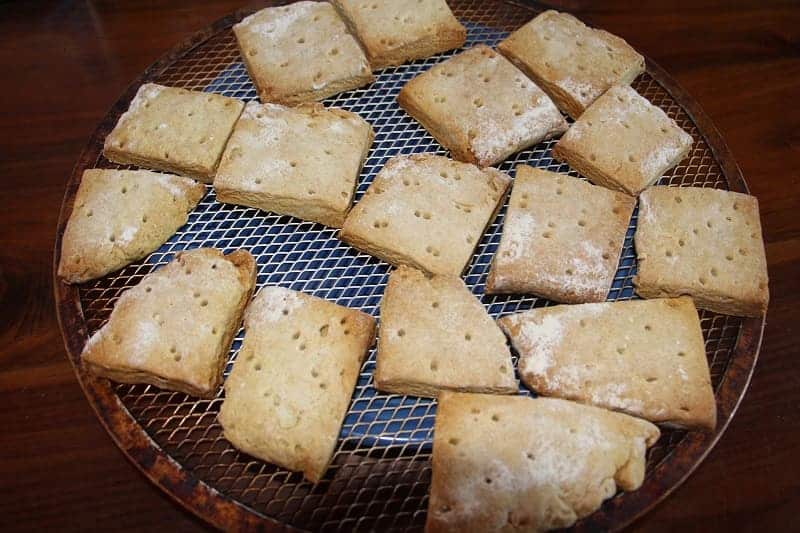 What extras can I add to hardtack?
Some dried products can be added to the flour, water, and salt mixture.
If lactose intolerant, you can use dried buttermilk powder for added flavor and nutrition. Sugar can be added for sweetness. Some hardtack recipes recommend brown sugar because it adds flavor and sweetness.
Oils that are highly refined and have long shelf life can be added.
Other things include cocoa or carob powder for flavor. Yes, you can have chocolate hardtack if you want it! (Read more about storing cocoa powder.)
Please note that adding ingredients beyond the ordinary flour, salt, and water can affect shelf life, but if you are vacuum sealing, this can be pretty minuscule. (More on this later).
Just remember not to use animal fats like lard or tallow because they are more likely to go rancid.
How To Eat
Hardtack was meant to be eaten with some type of liquid. If you have not tried to eat any, you need to realize that they are not kidding when they call it hard.
In the past, people put it in their jaws and let their saliva soften it until they could swallow. However, it is better when it can be soaked in milk, broth, soup, or whatever liquid you have to hand.
This is a food that you can hurt your teeth or mouth with if you don't take care when eating it. Beverage or broth is your friend in the world of hardtack.
Nutritional Profiles
I did the math, and these nutritional profiles are close to what you can expect from my recipe and the traditional one. I just used the existing dietary labels on the products I used and did the math based on my measurements.
| Recipe | Calories | Fat | Protein |
| --- | --- | --- | --- |
| Modern Hardtack | 3410 | 127 grams | 99 grams |
| Traditional Hardtack | 2160 | 9 grams | 64 grams |
Salt: Don't Underestimate Its Value in a Survival Situation
The amount of salt you use can vary based on your taste.
Remember that salt can be a lot harder to get in a survival situation than you would ever imagine.
While many of us try to watch our salt intake, you might want to increase it during hard times.
Think about it like this; when you sweat, you lose salt, and during hard times, you might have to do more physical labor and rely on more energy-intensive methods for transporting yourself and gear. Walking, pulling wagons, carrying items rather than using a vehicle, etc., will result in you sweating out salt at a higher rate than before.
Salt was often left out of hardtack in the Civil War because it was paired with high-salt foods like salt pork when possible. Cured pork belly and coffee were often paired with hardtack if times were in favor of the soldiers.
Later in the war, soldiers felt lucky if they just had some hardtack to gnaw on.
The Amount Of Protein You Need Depends On Age and Gender
According to Web MD, an adult woman needs 46 grams of protein per day while a man needs 56 grams.
Pregnant or breastfeeding women should try for 71 grams. The protein level of your hardtack can easily be adjusted by adding more nutritional yeast.
Note: The level of exertion required during hard times and the increased calories required for pregnancy or breastfeeding mean that you would need to eat more.
Nutritional Yeast Adds Folic Acid
Women that are pregnant or of childbearing age should be concerned about folic acid. The hardtack recipe I created means that if one consumes 1,705 calories of hardtack or half the recipe, they will get 350% of the recommended daily value of folic acid.
Other Vitamins & Minerals
It is vital to maintain a good intake of essential vitamins and minerals. You will come through any survival situation better with vitamins and minerals.
Keeping your immune system functioning at as high a level as possible is critical when medical services may be hard to procure.
Multivitamins are great, but I see no harm in adding some nutritional yeast to unleavened bread. It is not going to raise the bread. You are mixing hardtack dough and baking immediately, so even if it did cause it to rise, it wouldn't happen that quickly.
Nutritional yeast also adds a cheese-like flavor without using any dairy products, so it is great for those that want to avoid that.
Limiting Nutritional Factor: Vitamin C
One ingredient that I would consider adding to hardtack is Vitamin C. While hardtack contains good levels of B-Vitamins, it completely lacks Vitamin C.
These are the two vitamin deficiencies that will cause problems soonest during a survival situation.
Scurvy was a common problem years ago but don't think it could not happen again. Make sure you have at least some vitamin C powder or capsules put back.
This could be as simple as adding a capsule of Vitamin C to the pouch before you vacuum seal your hardtack.
You could also use a packet of Emergen C drink mix. Simply put this in with your hardtack ration, and you will have something to flavor your water and help get the hardtack to an edible consistency.
Storage Of Hardtack
The most important things to remember when it comes to storing hardtack:
Keep it moisture-free
Protect from insects, rodents, and other pests
Since we live in the wonderful age of vacuum sealers and inexpensive storage containers, I suggest that you vacuum seal it with an oxygen absorber after your hardtack is cooled off and set up solid. Store it in a plastic tote with a tight lid, and it will stay good indefinitely.
During the Civil War, hardtack was commonly infested with weevils and sometimes became wormy.
This is because although it kept well, soldiers did not have good storage. Crates of hardtack were exposed to moisture and insects quite often.
During that terrible war, they often ate it anyway because that was all they had.
How much hardtack should I put back?
If you are on a budget, then knowing how to make hardtack is an excellent way to create a cheap stash of food for you and your family.
There is something to be said for putting back far more than you need because this will allow you to have some inexpensive extra food to trade and have some on hand in case you get people showing up at your door asking for help.
Commercial Hardtack
There are very few producers of hardtack in the United States, but you can also get something called Pilot Crackers, basically the same thing. It is not cheap to buy either of these, so making your own will offer better nutrition at a lower cost.
Authentic hardtack goes for a good price due to its popularity with reenactors and the lack of commercial producers.
Do you have any hardtack recipes, stories, or tips? Leave them in the comments below.