You don't have to stay dirty just because you live off-grid, all you need is an off-grid shower.
Not every off-grid shower solution is adequate, however.
A couple of years ago, when the summer heat and desperate drought left us with a muddy puddle rather than a glistening dam to cool off in, I purchased a basic solar camping shower.
To say I was disappointed would be a massive understatement.
The dribble of lukewarm water did little to offset the sticky temperatures, and the bag perished after a couple of weeks of intense African sun.
Since then, I've done hours of research, checked out numerous products, scrutinized reviews, and watched countless minutes of YouTube. I can tell you – it's not an easy task, but I feel the fruits of my labor are now, finally, ready to share with the world.
So, here are the best off-grid shower solutions for every situation, be it survival, camping, glamping, or sustainable living.
The Top 5 Off-Grid Shower Solutions
#1 The Bucket Shower
Bucket showers are widespread throughout Africa, and anyone who's been on a safari will be familiar with the protocols of using one. All you do is turn it on, get wet, turn it off, soap, turn it back on, and rinse.
A bucket shower is simple yet versatile.
The traditional bucket shower is literally just a bucket with a showerhead attached and some means of turning the water on and off. The water can be heated using fire, solar power, or a simple electrical immersion heater.
If you want to stay true to its origins, why not try Simple Shower's Portable Camping Shower?
It transforms almost any bottle, bladder, or collapsible bottle into an instant shower. Admittedly, it's just one step up from pouring water over yourself, but it's better than a dip in an ebola-infested lagoon!
A more sophisticated and better quality version involves a battery-powered pump with a showerhead attached, like the Ivation Portable Outdoor Shower.


With this ingenious contraption, you can pump water from virtually any receptacle – pop the pump into the water, turn it on, and away you go.
Other similar products come with a collapsible bucket, like the OYOOQO Outdoor Shower, which also comes with a high-pressure gun for washing cars or exceptionally filthy children.
As a crew member on the epic 370-km Race The Wild Coast horseback adventure, I've used this type of shower at every base camp and can attest to its efficacy. You get a nice, steady flow of water, a good seven minutes of use from a 2.5-gallon bucket, and a luxuriously hands-free experience.
Just one word of warning – if heating water over a fire, be careful not to melt the pump, the hose, or set your shower tent on fire!
#2 The Solar Shower
The shower I was so desperately disappointed with was a very basic solar shower made up of a black bag that you filled with water and a flimsy plastic showerhead.
The convenience of such a device is undeniable – simply fill the shower bag with water, leave it in the sun to heat up, and voila, you have an instant shower!
Unfortunately, getting that warm water to wet anything is a challenge, especially with the cheaper models on which the valves are often poorly fitted, resulting in low water pressure and leaks.
If you're in the market for a solar shower, I recommend skipping the budget options and heading straight for something like the 5-gallon solar shower from Advanced Elements.


Even a good quality solar shower is less versatile than the Ivation as the water is gravity fed so, the bag needs to be hung up in a tree or on a pole.
A shorter hose also means you have less choice of where to shower and may force taller people to perform a few imaginative contortions if they want to get wet all over.
If you're living off-grid, even a top-quality solar bag shower is unlikely to have the staying power you need for long-term, daily use.
If water isn't a problem, however, and you've got your pressure figured out, this solar-heated shower from Giantex is a durable, weather-resistant alternative. It will still require sunlight, of course, but its robust base and chrome-plated plastic body make it both hard-wearing and rust-resistant.
Simple to install, this shower comes with a 4.8-gallon tank and an extra cold-water tap for washing your hands.
#3 The Tankless Water Heater
A better option for survivalists and those living off-grid, the tankless water heater isn't exactly portable but, it makes up for that with its durability.
If you want an off-grid shower for your RV, an electric model like the Electric Mini-Tank from Bosch is ideal, although the Hike Crew Portable Propane Water Heater & Shower Pump is also worth considering.

A gas tankless water heater is probably a better option if you're living off-grid permanently, however.
The Gasland tankless gas water heater is lightweight enough to use while camping but robust enough to survive daily use in a sustainable living scenario. It requires minimal pressure and will ignite as long as the pressure remains above 2.5 PSI.


As easy to install as it is to use and using "advanced combustion technology to decrease gas consumption and burning noise," the tankless gas water heater is ideal for maintaining acceptable levels of cleanliness in the dirtiest of situations.
Unfortunately, for your tankless water heater to operate effectively as an off-grid shower, you will need the following additional components:
Water pump
To ignite the burner and push the water through when showering, you need a certain amount of water pressure. You can do this using a solar water pump kit like the one from Solariver.
If you want to shower at night, when no solar is available, install a header tank and use your solar pump to fill it during the day. This should provide you with sufficient gravity-fed pressure to enjoy a warm shower in the evening.
Showerhead
There's no point investing in a top-to-the-range high-pressure showerhead as it's unlikely you'll get the pressure needed for it to operate. A cheaper model that will work effectively with low pressure is a better option.
Many such showerheads have narrow hose attachments that make them incompatible with the hose outlet on your tankless water heater. A connector will do the trick if you can find one, but that might be more challenging than it's worth, especially for a sub-standard plastic showerhead.
Something like the product Oxygenics 26781 Hand-Held Sprayer Kit works well and has a power setting that amplifies the existing water pressure. That means, even if you're running it off a meager 12v water pump, you can still enjoy an invigorating shower.
With all the added extras, this solution turns out to be one of the most expensive, and you'll need to have somewhere between $300 and $500 to purchase all the necessary equipment.
#4 Portable Shower With Heater
Much like the pressurized bucket-style shower system, these innovative gadgets include everything you could possibly need to enjoy a nice hot shower in the middle of nowhere.
Using just one gallon of water, the portable shower and heater solution from Geyser Systems heats water using a 12v power source, taking between 15 and 45 minutes, depending on how you want it.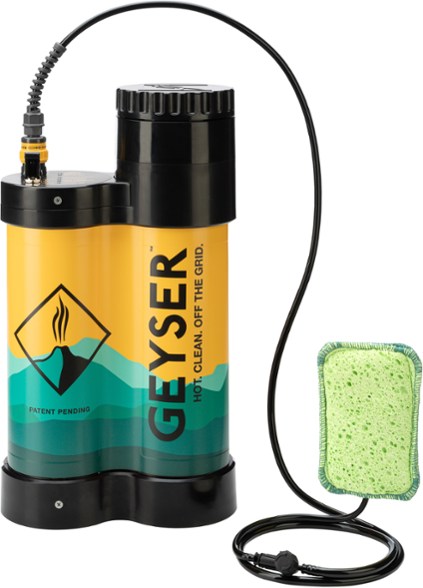 By utilizing a shower scrub instead of a traditional showerhead, this system uses minimal water, ensuring that every drop goes exactly where you need it.
Need something a bit more forceful? Remove the scrub and open the valve – you won't get an all-over spray, but you will get enough pressure to rinse long hair or get the sand out of your swimming shorts.
This portable shower certainly isn't a budget item, although opting for the cold water alternative could save you $100 or so, in terms of convenience, it's tough to beat. Ideal for a camping trip, I'm not convinced this option would keep me feeling suitably refreshed in a permanent off-grid scenario, but I'd be willing to give it a shot.
#5 Road Shower
So, the end of the world is here but, thankfully, you converted your SUV to run on electricity, which you generate yourself, so you're still good to go. Ok, it's a bit far-fetched, but if you are on a road trip and want a simple off-grid shower solution, the road shower is worth a look.
The cylindrical tank of the Yakima RoadShower attaches to your vehicle or trailer and uses sunlight to heat the water while you're traveling. With a capacity of nearly 38 gallons, it's a great way of transporting water and pressurizing it when you need to.
It has a thermometer on the outside of the tank so you can check the temperature before jumping in.
One of the most robust off-grid shower solutions, the RoadShower is built with aluminum, has brass connectors, and a stainless-steel mounting bracket.
To use it as a shower, you'll need a showerhead of some description. You could make one out of an old CD box (see video below) with a few holes punched in it, or you could invest in a custom-made Yakima showerhead if you're feeling flush.
How To Build An Off-Grid Shower
If you're dedicated to the off-grid lifestyle or want to prepare for when the SHTF, the best approach could be to use your imagination and elbow grease to create your custom-built off-grid shower. (see here for some rainwater shower options.)
Firstly you'll need an off grid water system and then a simple structure with a water tank.
The design that appeals to me the most is, unsurprisingly, also one of the simplest. A couple of planks are secured to some handily-situated tree trunks, forming a stand for the water tank. The water tank itself can be as simple as a 50-gallon barrel cut in half. Now, all you need is a hose and showerhead.
Hot water can be heated over a fire, using a heavy-duty steel drum, or in your tankless water system. If you want to keep it basic, you can simply pour the heated water into the drum as and when you need it. If you prefer not to clamber up a tree with a gallon of water on your head, however, a solar pump is a worthwhile investment.
To make your shower experience more pleasurable and more beneficial for your garden, make sure you've included some kind of drainage system. This can be as straightforward as a furrow that directs your greywater where you need it or, if you have numerous dirty bodies to clean, you may want to consider digging a pit that would operate as a soakaway.
Read more about off grid sewage systems.
How To Pick The Best Off-Grid Shower
From simple bucket showers to technologically advanced portable showers with their own in-built heaters, there is a range of off-grid shower solutions. Choosing the best one for your situation will depend on several factors, including:
How many people need to shower each day?
Where are you getting your water?
Have you got sufficient rainwater harvesting in place to supply the shower?
Have you got enough water storage containers?
What resources do you have for heating the water?
Is there suitable drainage?
Does your shower need to be portable?
Conclusion
There is a wide range of off-grid shower options which are suited to a similarly wide range of situations.
Whether you're planning for the winter months when solar-heated water isn't an option or preparing for the end of the world as we know it, an off-grid shower can help keep bacteria and infections at bay.
Cheap solutions aren't worth the investment and, although the top-end products have some nice features, if you're looking for something long-term, your best bet is building your own.
Whatever solution you opt for, make sure you've considered every aspect of your hygiene requirements and where your sources of water and heat are coming from. If you've ticked all those boxes, you're more likely to end up with an off-grid shower that washes the blues away rather than one that requires you to produce more sweat to operate it than it can remove.