The most important thing you need for emergency preparedness is water. While you can store bottled water, eventually, you'll want to invest in some water storage containers.
Good emergency water storage containers will allow you to store larger amounts of water in less space, prevent leaking, and algae growth, and have features that make it easier to use your water during a disaster.
Below we will cover the best emergency water storage containers, including small containers and solutions for storing large amounts of water.
We've also included a buying guide to help you understand what size water containers you need and which features to look for.
Our Advice: To get the benefits of storage and practicality, buy a mixture of both small and large water storage containers. So long as you have a system for easily removing water from the larger containers (such as a hose or spigot), you can refill the smaller containers and carry them where needed.
Best Water Storage Containers
These water storage containers range from smaller 2.5-gallon jugs to large water barrels. Most people will need small water containers (around 5 gallons).
However, you might also want a few medium or larger water containers. These aren't portable but can be used to fill smaller containers when they empty.
WaterBrick 3.5 Gallon Water Containers
Best For: Limited Space
WaterBrick is a very popular brand of water containers, and some preppers use them for storing dry food too.
They are made from thick, durable plastic that withstands much abuse.
The lids are also made well and don't leak. This is important because WaterBricks are designed to be stacked, so you won't be storing them with the lid upright.
The handles are sturdy and designed, so they don't take up any extra space.
See our full waterbrick review and our waterbrick vs aquabrick comparison.
Bundle packs available
Hideaway spigot sold separately
Stackable
Very sturdy
Food-grade HDPE (BPA-free)
The 6-pack is decent value
---
5 Gallon Stackable Water Containers Set
Best for: Value
These 5-gallon containers are a simple water storage solution that will work for most people's needs.
They are designed to be stackable with grooves and handles for convenience. They also have an air vent, so water flows evenly when pouring.
The caps are reliable, so you can store them on their side (though storing upright is still recommended). The spigots will leak a bit, so you'll need to keep a bucket under the tap once turned on its side.
You can buy these 5-gallon containers individually or in packs, allowing you to tailor your solution to personal needs.
Come in sets
Spigots included
Stackable
Screw-close air vent
Large cap for easy filling
Food-grade HDPE (BPA-free)
---
Igloo 6 Gallon Portable Water Container
Best For: Easy Carrying
The Igloo 6-gallon jerry container is very practical because it has two carrying handles. It also has a thin profile, so it isn't bulky to lug around.
The plastic is sturdy, so it can take some abuse (like being set down with a thud) without cracking.
There is a serving spout that stores back in the container but do note it is prone to leaking.
Some people also had issues with the cap leaking, so you'll want to store these containers upright.
The cans aren't stackable, so this isn't a good solution if you have limited space.
Hideaway spigot
Dual handles
Food-grade HDPE (BPA-free)
Push-close air vent
Store upright to prevent leaks
---
RedCamp 5 Gallon Water Container
Best For: Ease of Use
We love the RedCamp 3-gallon water containers because they are so practical to use in real-life scenarios.
There is a large cap for filling and a built-in spigot with adjustable flow. The air vent means water flows evenly.
Because the fill cap and spigot are on the same side, there is no chance of leakage when you store the containers upright. Even when on their side, the containers don't leak – I wouldn't keep it like this long-term, though.
These are 5 gallons but have a thin profile, so they are also easy to carry. Unfortunately, it is a push-close air vent, so it's easy to lose or break.
Adjustable faucet
Large fill hole
Push-close air vent
Easy to carry
Fairly durable
Food-grade HDPE plastic (BPA-free)
---
Scepter 5 Gallon Military Water Container
Best For: Indestructibility
No water container is completely indestructible, but this one by Scepter is as close as they come.
It is sturdy and can withstand drops (I don't recommend testing that!).
The caps are also very high quality and don't leak when stored on their side.
A cool feature is that the cap is multi-part. Open the entire lid to get a wide-mouth opening for filling. Or unscrew the vent cap and smaller cap for pouring.
It's an intelligent design. The only real downside is that the containers are costly.
4-inch wide opening
Smaller pour cap
Screw-close air vent
Very sturdy, thick injected molded plastic
Food-grade HDPE plastic (BPA-free)
---
Reliance 7 Gallon Aqua-Tainer
Best For: Affordability
If you need a cheap water storage container for prepping, Reliance's Aqua-Tainer is the most popular option.
Despite being so affordable, it has many nice features, with a hideaway spigot and the air vent screws on so it won't fall off while in storage.
Note that the Aqua-Tainer is only stackable when empty. They aren't sturdy enough to withstand that much weight on top of them.
They are also squat and difficult to carry compared to thinner water containers or jerry cans.
Hideaway spigot included
Screw-on air vent
Stackable when empty
Food-grade HDPE plastic (BPA-free)
---
Hudson Exchange 2.5 Gallon Water Containers
Best For: Affordability
These water containers are made from opaque HDPE plastic. Because they let some light through, you'll need to treat the water with bleach or rotate more frequently to prevent algae growth.
They don't have any features like spigots and will break if you drop them.
However, these are an affordable water container option and durable enough for long-term storage.
I still prefer the Aqua-Tainer better, but these are smaller and thus easier to carry.
Affordable
Sold in packs
63mm cap
No vent
Food-grade HDPE plastic (BPA-free)
---
Barker Tote Tank on Wheels (10 to 30-gallon sizes)
Best For: Non-potable water
This tote tank by Barker comes in 10, 15, 22, and 30-gallon sizes. It is designed to hold RV wastewater but is a good solution for stockpiling non-potable water for hygiene uses.
You'll have to be creative about pouring the water out since it doesn't have a pour spout. The 10-gallon size tote measures 30x15x8 inches. It stores lying flat and has wheels, so you can easily move it.
It isn't stackable, but the totes are sturdy enough to put some other items on top. You can also fit them underneath shelving units if you are tight on space.
10, 15, 22, and 30-gallon sizes
Wheels for easy transport
Tow brackets on larger sizes
Not food-grade plastic (non-potable water only)
Air vent
---
Legacy 15 Gallon Potable Water Barrel
Best For: DIY off-grid water systems
These are nice, sturdy water barrels. Their caps have rubber gaskets to prevent leaks, so they can safely be stored horizontally and upright.
Despite being pretty affordable (compared to other food-grade water barrels), the barrels seem to be of excellent quality. Just note that the built-in handles are for carrying the barrel when it is empty and not when it's full.
Caps have rubber gaskets to prevent leaking
15″ Diameter, 27″ high
Two carry handles
Food-grade HDPE plastic (BPA-free)
---
WaterPrepared Stackable 55 Gallon Water Barrels
Best For: Large water barrel with pipe fittings
These water barrels have some smart features that make them stand out from others.
The first is that they are stackable, which means you can save a lot of space.
Secondly, they have a spigot at the bottom with ¾ inch pipe fittings. This means you can attach a standard garden hose to the spigot. You'll need to occasionally push the air vent button near the top of the barrel to even out the air pressure.
The water pressure isn't great through a hose, but it's very convenient if you need to get water to another part of your home. The barrels are also well-made and don't have leakage problems. They come with a lifetime guarantee.
The only real downsides are that the air vent button is inconveniently located in the back and that the spigot is located very low to the ground; you'll need to put the barrels on top of pallets so you can access the spigot without a hose.
Read our full WaterPrepared storage tank review.
22″ x 28″ x 30″
Spigot compatible with garden hoses (3/4″ pipe)
Air vent button on top of barrel
Lifetime guarantee
Food-grade HDPE plastic (BPA-free)
---
How to Choose Water Storage Containers for Emergency Preparedness
Below are the main things you need to consider when choosing water storage containers for emergency prep – including how to figure out what size water containers to get and which features are useful.
Can I Store Water in Recycled Containers?
Water containers can be expensive, so understandably, you'd want to store water in recycled containers. However, a big issue with recycled plastic bottles is that they are biodegradable and will eventually start to leak.
It varies depending on the thickness of the plastic and how they are stored, but most plastic bottles only last 6-24 months.
If you use recycled plastic bottles to store water, you'll have to rotate them frequently – throwing away the bottles and putting water in completely new bottles each time. By contrast, the water storage containers we reviewed will last a lifetime.
Read more about storing water in recycled containers here.
What Size Water Containers Should I Get?
When it comes to space, it is much easier to store one 55-gallon barrel of water than 55 one-gallon bottles. However, large water storage containers aren't practical for most people. Consider that a gallon of water weighs 8.33lbs. Even a "small" water container of 5 gallons will be cumbersome when full (over 41lbs!).
Pouring water from such a heavy container can be difficult, not to mention trying to transport the container.
Top Tip: To get the benefits of storage and practicality, many people buy a mixture of both small and large water storage containers. So long as they have a system for easily removing water from the larger containers (such as a hose or spigot), they can refill the smaller containers and carry them where needed.
Stackable Water Containers
If you are short on space in your home, it is worth paying more for stackable water storage containers. These containers typically fit together like building blocks so you can build tall towers of water.
Note that most 55-gallon water barrels are not stackable. There are solutions for storing water barrels on their sides, like the one sold by Titan shown below (it's fantastic but very pricey).
You could make your own water storage shelves too. Just be warned that wood shelves crack easily because water barrels are so heavy.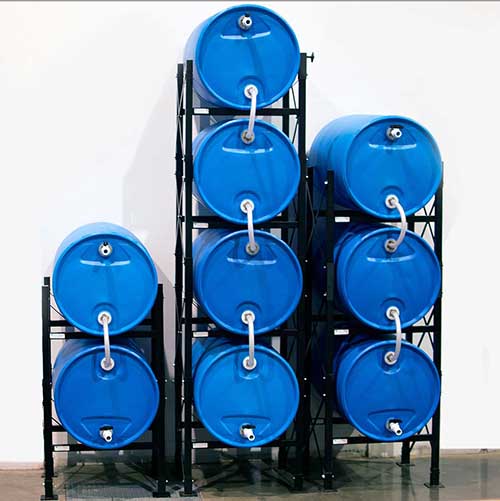 Spigots/Faucets
Spigots make it much easier to get water out of your containers. If you have back problems, arthritis or don't like lifting 40+lbs to pour water, I recommend getting water containers with a spigot.
Unfortunately, spigots are usually a point of leakage in water containers. They also jut out awkwardly, making storing containers in small spaces more challenging. As a solution, some water containers sell spigots as a separate attachment (aka hideaway spigot): keep a secure-fitting lid on the water container until you are ready to use it, remove the lid, and then attach the spigot.
Some other things to consider about spigots on water containers:
Location: Spigots should be near the bottom of the water container so they can be nearly completely emptied. Some very large water barrels even have two spigots so you can access water even if the barrel is sitting directly on the floor.
Vent: For water to flow out of a spigot, there usually needs to be a vent on the container. While vents are helpful, they can also be points of leakage. There are also ventless spigots that don't require an air vent in the container.
Adjustable flow: This is a useful feature if you use the containers frequently, such as for camping as well as emergency water storage.
Top Tip: If you don't want to pay for water containers with a spigot, at least keep a funnel with your water stockpile. This will make it easier to pour water into smaller containers.
Type of Plastic
As a general rule, HDPE (plastic #2) is the best type of plastic for water storage containers. Plastics #4 and #5 are also okay for water storage. However, plastics #1, 3, 6, and 7 are not good options because they are weak and/or leach chemicals into the water.
Note that not all HDPE plastic is food-grade. Plastics from these containers are fine for storing water for hygiene or other non-potable uses.
Containers for potable emergency water must be labeled as food-grade.
Read more about types of plastics for food and water storage here.
Durability
Your water storage containers will get banged up a bit. It occurs when you are trying to move heavy containers and accidentally drop them. Or when a tornado or hurricane blasts through your home, sending your preps flying around.
The water storage containers reviewed have all been tested for durability. Some of them we tested ourselves by filling them with water and standing on top of them or setting them down with a big thud. We also combed through all the reviews to see if any customers had issues with the plastic cracking or other damage.
Collapsible Water Containers
Many collapsible water containers get great reviews online. These collapsible water containers are generally meant for camping, boating, or RVs.
They are NOT suitable for long-term water storage. This is because collapsible water containers are very flimsy; they break easily and are prone to leakage.
However, collapsible water containers can be part of your emergency plan if you store water in large containers with spigots. If an emergency strikes, you use the large containers to fill the smaller collapsible containers, which are easier to transport.
Leaks
A big issue with water storage containers is leakage. If you store the container on its side, the cap often fails and slowly starts leaking water. Spigots and air vents are also potential points of leakage.
Even quality water containers sometimes leak, especially if stored somewhere with large temperature swings, because the expanding/contracting of the plastic lid causes the seal to fail.
You'll need to store water containers, so the cap is upwards to prevent leaks. If the container has a built-in spigot, it should be on the same side as the cap.
For example, the RedCamp water container (below) won't leak if stored upwards because the spigot, cap, and vent are all on the same side.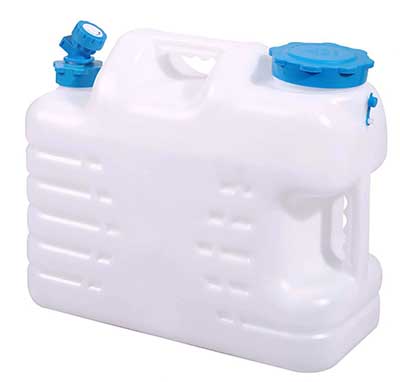 Tip: Check on your water stockpile at least 2x per year so you can catch any leakage before it becomes an issue! If leakage occurs and you can't store the containers with the caps/spigots upwards, some plumbing tape around the threads should fix the issue.
Air Vents
When you pour water from a large container, air will enter. It will create a glugging sound and cause the water to come out in spurts. Many larger water containers have air vents opposite the spout to prevent this.
While air spouts are a great feature, they are also prone to leakage. I've also heard stories of the air caps breaking off completely. In general, screw-on air vents are more reliable though they are easier to misplace.
Carrying Handles
Because water is so heavy, all portable-size water containers should have sturdy handles. The handle should be thick, so it doesn't dig into your skin. It's also nice to have two handles: this allows you to carry the water container horizontally or vertically and makes pouring water easier.
Color
Emergency water must be stored away from light to prevent algae growth. For further protection, choose water containers made out of a darker color.
Blue is a good color because it won't allow light through. However, you won't be able to see the water levels in most blue containers. For this reason, some people prefer white containers.
Need more advice? Read: