I've just spent hours researching one of the most underrated self-defense weapons available: the tactical umbrella
A simple device that can hide in plain sight, protect from a downpour and provide reliable self-defense.
Sadly, I was largely disappointed with what I found. Many tactical umbrellas are made with substandard materials and we found several counterfeits which looked legitimate at first glance but are actually made of inferior materials and use fake videos stolen from the more reputable companies (more on this later).
After going through numerous survival forums, and hundreds of product descriptions with a fine-toothed comb, I gave into my YouTube addiction and watched a few too many hours of video reviews as well.
It was worth it, although it resulted in slim pickings. Rather than finding seven or more decent options, I ended up with a list of just three.
The rest aren't worth your time but these gadgets have it all.
Tactical Umbrella Picks
Unbreakable® Walking-Stick Umbrella – Best overall tactical umbrella
Unbreakable Telescopic Umbrella – Best Telescopic tactical umbrella
Wrzbest 2-in-1 Walking Sticks Umbrella – Best Budget umbrella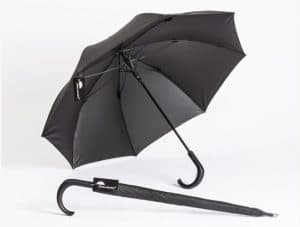 Unbreakable® Walking-Stick Umbrella
A handcrafted umbrella made from virtually indestructible materials, the Unbreakable Walking Stick is as capable of fending off attackers as it is bad weather.
NTOI Unbreakable® Telescopic Umbrella
This robust umbrella is just over 21 inches long – can be easily carried onto planes and through checkpoints.Check Unbreakable
The Top Three Tactical Umbrellas Reviewed
#1 Unbreakable® Walking-Stick Umbrella
Created by self-defense expert, Thomas Kurz, this is one of the few tactical umbrellas designed with self-defense in mind.
It's been on the market since 2004, receiving a glut of positive reviews (we also covered it in-depth). It has proved itself as capable of staving off attacks as it has at protecting against sudden downpours.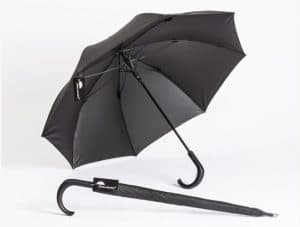 Check Prices on Unbreakable Umbrella
Although it weighs just 775g, its fiberglass and polyamide frame means it's "as strong as a steel pipe" and able to deliver a forceful blow without breaking. The stainless tip is covered with a rubber tip to convert it into a durable walking stick.
At 37.7 inches long, this tactical umbrella gives you plenty of reach in a self-defense situation and doubles up as a comfortable walking stick for taller users. Its crooked handle adds extra power, enabling you to hook an assailant's arm or leg and pull them off-balance.
If you prefer a rounded handle, rather than a crooked one, opt for the U-111 model rather than the U-115.
Slightly shorter than the crooked handle version, the U-111 measures 36.75 inches in length, making it more suitable for shorter people, like myself, and weighs 70g less. In all other respects, it's as durable and powerful as the U-115.
Wouldn't you love to see this bad boy in action? Thomas Kurz, its creator, has put it through its paces many times with no ill effects (except for the watermelon!).
The Unbreakable walking-stick umbrella looks, well, just like a walking-stick umbrella so can be carried through checkpoints and onto airplanes without raising suspicion.
With its mid-range price-tag, this self-defense umbrella is reasonably affordable and comes with a five-year warranty.
Pros
Unbreakable
Legal to carry
Versatile and effective
Cons
Too long for shorter people to use as a walking stick
Check UnbreakableCheck On Amazon
---
#2 Unbreakable Telescopic Umbrella
Like the Unbreakable walking-stick umbrella, this compact telescopic device comes in two models.
The premium model features a steel shaft, whereas the U-212 is made of aluminum and fiberglass.
Check Prices on Unbreakable Umbrella
What umbrella you choose will largely depend on how much you want an umbrella for self-defense, and how much weight you're willing to carry around.
The more robust U-202 provides better self-defense but, at 745g is more cumbersome to lug around. The U-212 weighs less than 500g, is similarly durable, and comes with the same emergency car-window-breaker device that can screw onto the tip.
Both models of the Unbreakable telescopic umbrella measure 21.3 inches long when fully extended so won't give you the same reach or impact that the walking-stick umbrella will. On the other hand, they're easier to slip into your hand luggage or coat pocket, making them even more discreet.
Intended for professionals in the personal protection business, this robust umbrella can deliver a hefty blow and withstand heavy impact. I swear, an elephant could sit it on it, and it still wouldn't break.
If you do find yourself using this tactical umbrella in a fight for your life, don't expect everything to survive the ordeal. While the canopy is waterproof, it's not "abrasion proof or slash proof" so may not emerge from a combat situation unscathed!
While the U-202's steel shaft makes it more durable and heavier than the U-212, it also means it needs a little more TLC to keep it in tip-top condition. According to the manufacturers, "After exposure to water the shaft needs to be wiped dry and lightly oiled. Should rust spots be allowed to occur, they need to be removed with a Scotch-Brite pad or steel wool, prior to oiling".
Then again, what's a little maintenance compared to losing your valuables, or your life, to an assailant?
These telescopic umbrellas don't come cheap, costing almost double the price of the walking-stick umbrella that clinched our number-one spot. The high-quality materials and overall sturdiness make it a worthwhile investment, however, assuming your budget can extend that far.
Pros
Compact
Hard-wearing
High-quality
Cons
Steel shaft requires more maintenance than fiberglass
Comparatively expensive
---
#3 Wrzbest 2-in-1 Walking Sticks Umbrella
Although not marketed as a self-defense weapon, this 2-in-1 walking-stick umbrella from Wrzbest is certainly strong enough to use as a jabbing implement and capable of delivering a powerful whack.


Check Prices on Amazon
With its tungsten steel shaft and reinforced fiberglass ribs, this walking stick umbrella can cope with some seriously rough treatment, whether it's being used as a walking aid, rain protection, or to fend off aggressive animals.
Its ergonomically curved handle makes it comfortable in the hand, while its waterproof canopy offers good protection against both rain and sun.
The Wrzbest may not be sturdy enough to stand up to the kind of pummelling that the Unbreakable versions can withstand, but it's enough to make you feel a little safer when strolling the streets.
At just over 500g, it's almost as lightweight as the compact, aluminum-shafted telescopic umbrella from Unbreakable but strong enough to provide stability even in the most slippery of conditions.
It comes with an anti-skid rubber head that slips easily over the stainless steel tip and a non-slip handle.
At 34.3 inches long, this is one of the longest umbrellas of our top picks but, still isn't long enough for taller people to use as a walking stick. Even those standing around 5'8" may feel a little crooked leaning on this, despite its durability.
At less than half the price of the cheapest Unbeatable umbrella, this is an ideal choice for those looking for a more affordable tactical umbrella that can provide limited protection without drawing attention to itself.
Pros
Ergonomic design
Lightweight yet durable
Affordable
Cons
Won't withstand repeated high-impact blows
Too short for people 6ft and over to use as a walking stick
How To Spot a Fake Self-Defense Umbrella
You spot an umbrella that looks both rainproof and capable of providing self-protection but, when it arrives, you realize it's made of flimsy fiberglass that couldn't make mincemeat of a grape, let alone fend off a violent assailant.
This is what happens to many people shopping online for a tactical umbrella. The marketplace is full of substandard fakes that are advertised in such a way that it's easy to be duped.
While the Unbreakable umbrella is the real deal, if you find another item that claims to be indestructible, bulletproof, or armor-plated, chances are, it's a fake.
Many of these products look and sound like the original Unbreakable umbrella so how can you spot a fake?
The first thing I did was to check out reviews on YouTube – if the item used Unbreakable umbrella's videos to prove its durability, I instantly knew something wasn't right. If it really was indestructible, wouldn't they want to advertise it rather than a rival product?
Your next step is to scrutinize the advert, comparing it to the one for an Unbreakable umbrella.
Does it have a 14mm shaft?
Do the tips look the same?
Is the handle appropriately crooked?
Even more importantly, does the price match?
Also bear in mind that every Unbreakable umbrella comes with a distinct Unbreakable tag. No tag? No deal.
There's no reason to settle for second best, especially when it comes to self-defense. A counterfeit product or a fake umbrella could cost you your life which will make saving a few dollars in the first place seem pretty absurd.
Why You Need a Tactical Umbrella In Your Life
An umbrella is a popular item and always on hand to save us from a sudden cloudburst. If we see someone strolling down the street with an umbrella over one arm, we accept it as perfectly normal, regardless of their age, gender, or stature.
While a walking cane looks incongruous when carried by a 20-year-old, an umbrella looks completely natural, which means you have the benefit of both stealth and surprise.
Let's face it if you decided to attack someone carrying a walking stick, you'd expect them to fight back, wielding that stick as though their lives depended on it. If your chosen victim was carrying an umbrella instead, you probably wouldn't think twice about it.
A tactical umbrella is seriously underrated as a self-defense tool, giving you the chance to fend off an attack before your aggressor knows what's hit him! It's one of the few items you can legally carry for personal protection.
You can take an umbrella, and therefore, a tactical umbrella, anywhere with you. Getting on public transport, boarding planes, and passing through checkpoints can all be done with an umbrella, whereas attempting the same actions with a self-defense baton, or even a walking cane in some instances, can prove impossible.
The marketplace isn't packed with tactical umbrellas and, out of those that are available, many are too flimsy to be considered effective as self-defense tools. So, what features should you look for when hunting down the best umbrella for self-defense?
Must-Have Features
Strength and Durability
The internet is flooded with videos of people testing the strength of the top tactical umbrellas. Whether standing on them or using them to whack a coconut to pieces, these demonstrate the ability of such items to withstand a vicious attack.
If there is no evidence that a tactical umbrella is unbreakable, it probably isn't, so do your research first!
Materials
Shaft
Some of the strongest umbrellas for self-defense are those made with Unbreakable's unique composite – a combination of fiberglass and polyamide – although the most durable one is probably the Unbreakable premium telescopic umbrella with its steel shaft although that does mean it's prone to rust, which isn't ideal for a device designed to protect you from the rain.
Even a lightweight product made purely from fiberglass will be durable enough to withstand a few blows and strong enough to act as a stabilizing aid for walkers weighing up to 120 kg.
Handle
In terms of durability, ergonomics, and self-defense capabilities, a wooden handle has a lot going for it. A rounded hardwood handle can deliver an almighty blow, not unlike a club or baseball bat, but is still comfortable in the hand and weather-resistant.
While crooked handles can pull an assailant off-balance, they can also get caught on clothing or hooked on passers-by which makes the rounded handle preferable, especially in confined areas.
Plastic handles tend to get sticky if left in warm environments, like your car, which makes them less versatile, as well as less durable.
Weight vs Power
While a heavier umbrella can deliver a more punishing blow, it doesn't lend itself to portability, so finding something that balances both those needs is essential. Even the heaviest of our top picks weighs less than 800g so remains portable while offering the power you need in an emergency.
A very lightweight tactical umbrella is unlikely to survive the test of time or stand up to the rough and tumble of an unexpected conflict.
Length
A walking-stick umbrella gives you more reach and can be used to stop any aggressor, be it canine or human, from getting close enough to hurt you. On the other hand, a 40-inch walking stick umbrella would reach up to my ears and look decidedly conspicuous.
For an urban situation, many people opt for a compact umbrella and the telescopic tactical umbrella from Unbreakable is certainly small enough to tuck into a coat pocket or slip into a handbag. It won't double up as a walking stick, though, so if stability is as important to you as self-defense, a walking-stick tactical umbrella is a better option.
How To Use An Umbrella In Self-Defense
Much like a self-defense cane or baton, you can use a tactical umbrella to thrust, stab, block, or hit.
While I've done a few self-defense classes, I'm by no means an expert when it comes to brandishing an umbrella. Fortunately, others are, and they're more than happy to share their knowledge and techniques with you.
This video introduces some basic techniques for using a telescopic umbrella for self-defense:
And this one gives some tips on using a long umbrella to stave off an attack:
If you specifically want to know how to prevent a knife attack using a self-defense umbrella, this demonstration is just for you:
Is It Legal To Carry?
However inconspicuous or innocent an umbrella may appear, if you use it in self-defense and infect harm on another person, you could be breaking the law. Before buying an umbrella as a self-defense tool, make sure you're familiar with the relevant state and federal laws.
Please bear in mind that, while we, at Primal Survivor, can recommend products and advise on their efficacy, we can't guarantee their legality nor be held responsible for any damage caused by an item we recommended.
Conclusion
Either one of the tactical umbrellas from Unbreakable is precisely what it says it is – unbreakable.
You can stand on them, bash things with them, even run over them, and they'll still stand the test of time. They may not be the cheapest options but then again, who wants cheap when lives are on the line?