I've said before that I am not going to buy a survival property for bugging out, mostly because I don't think any properties in my nearby area would actually be secure during a total disaster scenario. So, I'd rather spend my money on other preps.
For others who don't want to buy a survival property, here's another bug out solution: a rugged off grid RV/caravan.
Yes, there are issues with relying on an RV for bugging out – namely the issue with stockpiling fuel.
However, these RV caravans are capable of going on rough terrain, which means you can stay mobile and flee to various destinations based on what is going down.
And, compared to the cost of setting up an off grid property, buying a caravan might make a lot more sense — though do be warned that some of these off road RVs will set you back over $180,000!
Here are some of the most rugged off grid RV caravans that are going to make you hyperventilate they are so tough!
1. Off Grid by Lotus
Lotus is an Australian company which makes off-road caravans. The Off Grid is its latest trailer and it retails for about $55,000 USA – which makes it a heck of a lot cheaper than an off road RV and even most other trailers. Some of its awesome features include:
14 feet
Dual panel solar energy and battery system
Two 95 liter water tanks
Toilet/shower combo
17" wheels
Heavy duty Control Rider suspension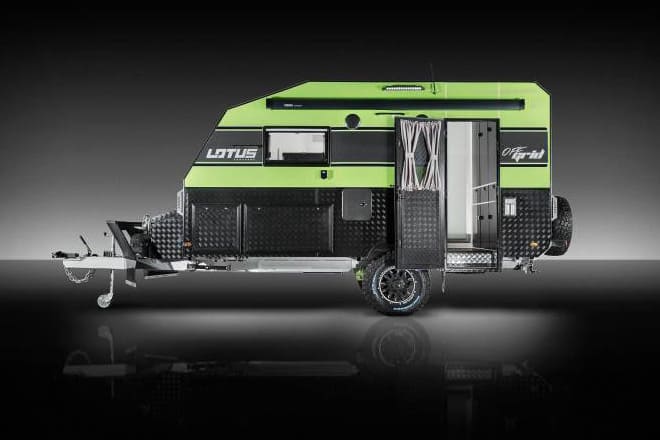 2. Safari Extreme by Global Expedition Vehicles
Global Expedition Vehicles (GXV) makes a lot of models of mouth-watering off road RVs. The Safari Extreme is one of its even tougher models and it boasts these features which make it perfect for off grid living:
15 feet
Mastervolt energy system and additional solar panels
Drinking water filtration system
135 gallon (510 liter) water tanks
Isotherm water heating
3. The Siberian by Tiger Adventure Vehicles
The Siberian is the largest and toughest model made by this off road company. This rugged off grid RV caravan boasts:
AGM batteries
Solar power
Magnum heavy-duty inverter
Can be all-diesel or gasoline/propane
Extra roomy gallery
4. The Terracross TC59 by Unicat
Unicat is a fairly new company as it was formed only in 2000. They specialize in making off-road RVs for the global market. For a new company, they have an impressive record already and have more than 100 products with some bad@ss technology. The Terracross TC59 RV caravan features:
High flexibility waterproof bellows coupling
Burglarproof windows
600-liter freeze proof water tanks
Automatically change tire pressure to one of four settings: street, track, sand, and emergency
5. Pure by Action Mobil
The Pure is the smallest off road RV by Action Mobil, a company which makes some of the most impressive RVs and caravans you'll find in the world.
At a length of 3.8 to 5.6 meters (12.5 to 18.4 ft) and weight of under 7.49 tons, it is considered a "starter model."
For bugging out purposes, the smaller size is a big plus. It means that you need fewer resources to run the RV.
Fold-up kitchen and bed
Four 240 watt solar panels and 5000 watt inverter
MAN TGM 18.340 4×4 chassis
340-hp (250-kW) 6.9-liter inline-six turbo diesel
Dual fuel tanks hold 190 gallons
6. XV-HD by EarthRoamer
I love the EarthRoamer company. They started in 2002 with just two employees and a vision to make RVs which could go off road.
They are the ones who coined the term "Xpedition Vehicle" or "XV" to show the difference between Xvs and RVs.
I also love that they sell pre-owned XVs on their website in addition to new models.
They also host "Adventure" outings where people who drive XVs can gather, meet, and explore together. The XV-HD is still in production but will be their most impressive model yet.
35 feet length
145 gallons fuel
200 gallons fresh water
100 gallons grey water
4 kilowatts solar and 2x3000W inverter
7 L PowerStroke diesel engine
46" tires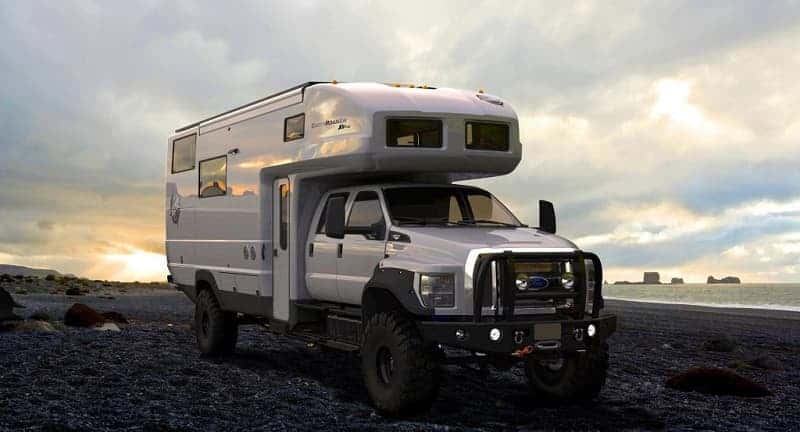 7. Alpha Camper by All Terrain Warriors USA
ATW USA is another cool company for off road vehicles and RVs. They started off as ATW Australia and then teamed up with Sportsmobile West to form ATW USA.
Their RVs utilize the Mitsubishi Fuso truck chasis. The Alpha Camper may look like a camper, but it has these rugged features for off grid living and bugging out:
Solar charging system with 3 x 120 watt laminates
2 x 210 Ah AGM batteries
Aluminess bumbers
Warn winch
Fiamma awning
Roof rack
Super single wheels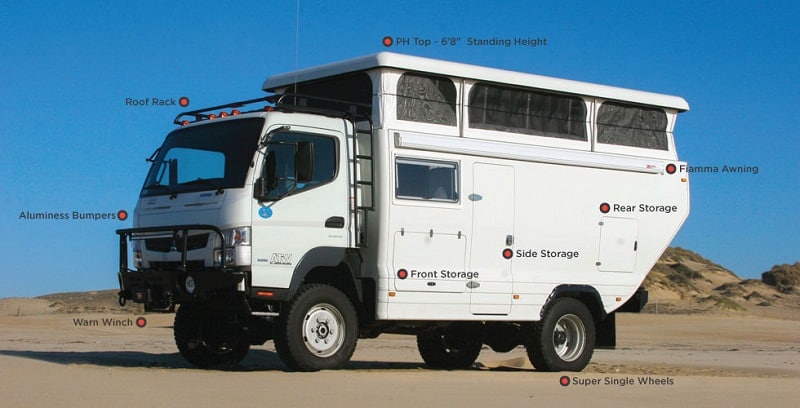 8. Earthcruiser EXP by EarthCruiser
The great thing about this rugged RV is that it is very compact in size. It uses a 4×4 truck chasis so it can fit on any parking size.
For off grid living, it is really nice that it has a built in water purification system so you can have clean drinking water from impure sources like rivers or creeks. Some key features are:
Diesel fuel
44 foot turning radius
Water purification system
2 solar panels and batteries
80 gallon fresh water supply
Pop-top roof
9. Custom Builds by Xplorer Motor Homes
Xplorer Motor Homes has been in business for over 35 years, making them one of the first companies to make off road RVs.
They have several of their own models of 4WD RVs and also do 6×6 conversions that the customer asks. Some of their choices include:
Diesel or gasoline generators
Espar Airtronics heaters
Electric tankless water heaters
Reverse osmosis water purification system
Mobile internet satellite system
Compost toilet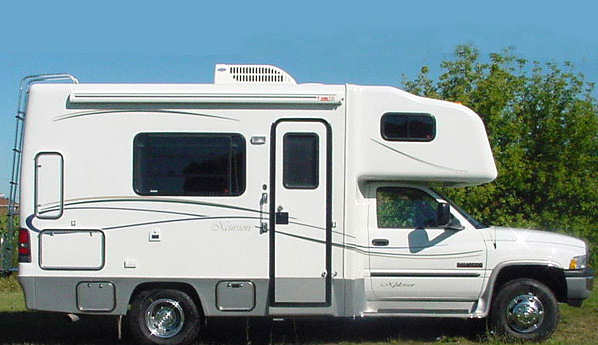 Some of you readers might just be interested in an off-road, off-grid RV caravan for exploring and expeditions. But if you are considering getting an off-grid rugged vehicle for a Bug Out Vehicle and Survival Property in one, then note this:
You will still need to choose a remote area to flee to in case of a major disaster. Never rely on a vehicle to save you in a disaster. Even a vehicle as tough as these RVs will is still susceptible to EMP, theft, fuel shortages, and much more!
Related reading: Does diesel go bad?
You'll want to have that remote area to bug out to planned, as well as everything you need to survive in your Bug Out Bag.
What Bug Out Vehicle do you have planned?